Verizon on the verge of flipping the switch of its VoLTE service nationwide
21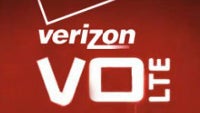 Back in December last year, we heard that Verizon Wireless might be
holding up on the release of a VoLTE
(
Voice over LTE
) service until an undefined time period in 2014. As we are well into the second half of the year, it was high time that we heard something about any possible release date for Big Red's high-quality voice call goodness, and it appears that this might happen in the following weeks. Allegedly, Verizon is poised to launch its VoLTE service throughout the whole of the USA. When this happens, the carrier will begin to preload the VoLTE feature on the smartphones it normally offers, while users of supported devices will get the HD voice functionality via an update.
Two of Verizon's rivals, AT&T and
T-Mobile
, have already launched their own VoLTE services, and T-Mobile's one already has a nationwide coverage. Big Red is also prepping to launch its HD voice call across the whole country, thus aiming for the lion's share of the VoLTE market in the USA.
In order to benefit from Verizon's HD voice service, one will have to sport a VoLTE-enabled device. Naturally, these are all smartphones that allow you to hook up to the carrier's 4G network. What's more, Big Red's VoLTE calls will be interoperable, so that users will be able to make clearer voice calls with any counter-opposed HD Voice-compatible AT&T, T-Mobile, or Sprint device. As sound logic suggests, this is pretty crucial for the future development and wider adoption of the nifty technology.
As roughly 80% of all the traffic on Verizon's network is an LTE one, the carrier is planning to release an LTE-only device sometime in 2016. This would only happen once all of Verizon's services make use of its LTE network, mind you.
source:
Engadget