Verizon is getting rid of mail-in-rebates for higher-end smartphones?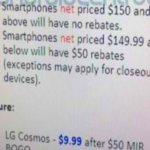 Although they offer instant prices on handsets purchased through their web site, Verizon still carries
mail-in-rebates
on devices purchased through actual retail stores nationwide. As some of us have probably experienced, the whole process regarding mail-in-rebates can be a hassle since you have to follow explicit directions and wait some weeks before seeing a gift card.
However, it looks like Big Red is going to roll out a
new strategy that eliminates mail-in-rebates
for higher-end devices. Specifically, smartphones that have a net price of $150 or higher won't have a mail-in-rebate attached to them, but smartphones with a net price of $149.99 and under will come along with $50 rebates. Unless you're looking at low to mid-range smartphones, you can rest knowing that your new smartphone purchase won't require you to tediously follow instructions for a mail-in-rebate.
FEATURED VIDEO
Definitely a nice gesture if it actually is true, but we won't know for sure until Big Red officially confirms the juicy details. Still, it would be even better if they eliminate mail-in-rebates altogether, but then again, that's what their web site is for.
source:
Android Central