Verizon iPhone 4 vs AT&T iPhone 4: spot the difference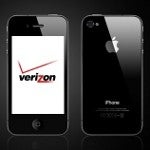 Now that the
Verizon iPhone 4 is a reality
, what about a quick comparison with it and the
AT&T iPhone 4
that we know so well? Obviously, there aren't that many differences between the two handsets - neither in terms of design, nor in terms of specs - but nevertheless, we'd like to point them out. Right here, right now.
You are already well aware of the only design difference. It's the slightly changed antenna, and contrary to what you might think, the change was not dictated by fear of going through the
Antennagate issue
once more, but simply because the CDMA network required it.
Now let's see what's in the way of under the hood alterations. Obviously, the
CDMA radio
has replaced the GSM one so as to make the iPhone 4 useable on
Verizon's 3G network
. Unfortunately, what might come as a bit of a disappointment is the lack of LTE. Verizon and Apple officials commented during the unveiling that an LTE chipset would have required the manufacturer to do some more significant alterations to the design, which was seen as too much of a hassle. But Verizon customers wanted the
iPhone 4
now, so that's why the team decided that it should out the handset as soon as possible, even with the lack of this much-appreciated feature. At least, that's what they say. Anyway, it will surely be interesting this summer when Steve Jobs walks out on stage to announce the next iteration of the device. HSPA+ support for AT&T and LTE for Verizon anyone? They sure do have enough time until then.
By the way, there is one major inconvenience that results from the CDMA radio inside. You won't be able to use the Verizon iPhone 4 with GSM networks around the world, which means you'll be more or less limited to using it Stateside, on Verizon. Thankfully, there are VoIP solutions that might just do the job for you after all.
Last, but not least, what might be seen as a pretty nice treat is the newly-added ability of the phone to act as a
Mobile Hotspot
for up to 5 devices, which will certainly be well-adopted by some users our there.
And that's it!
Pricing
is basically the same (except for the data plans, but Verizon has not yet released information about this), with the 16GB iPhone 4 costing $199 on both carriers with a two-year contract, and the 32GB one coming in at $299 with contract. The Verizon iPhone 4 will be available for pre-order for current Verizon customers starting February 3, while launch day is scheduled for
February 10
.
You can check the handset
at Verizon's
now.