Verizon confirms software update for the Samsung GALAXY Nexus
26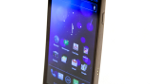 Verizon told
ComputerWorld
that an upgrade is on the way to fix the signal strength indicator on the
Samsung GALAXY Nexus
. While Verizon spokeswoman Brenda Raney did not give a date when the update would be disseminated, some Big Red customers have said that they were told by the carrier's reps that an update for the phone would be
sent out in January
.
In an email Raney said that there is no problem with the performance of the Samsung GALAXY Nexus, the first device that is powered by Android 4.0. Since the phone was launched on December 15th,
users have complained about the signal strength indicator being inconsistent
. A review model of the phone was noted by a reporeter to have gone from 2 bars of 4G service to no bars and then to 3G service. Additionally, the same unit could not hold a 4G signal while the Pandora music app was trying to open. After several minutes of buffering, the app finally opened over a 3G pipeline.
Verizon says some of the problem might relate to the varying strength of the LTE signal in different areas covered by Verizon's 4G network. Some areas within a city might have more LTE towers than others. Also, Verizon says that the Samsung GALAXY Nexus translates signal strength into bars differently than other Verizon LTE phones. The carrier says that the GALAXY Nexus
is more accurate with its signal strength indicator
which makes it appear to receive fewer bars than the other Big Red 4G handsets even though the signal is the same. Verizon says that the new update "
will adjust the signal strength indicator to more closely match other Verizon Wireless devices
".
Besides the problem with the signal strength indicator, users have also complained about some problems with the phone's multitouch functionality, a problem
that also affected the original HTC Nexus One
. The problem with the latter device was far more serious than the issue that GALAXY Nexus owners are facing.
source:
ComputerWorld
via
AndroidCentral
Recommended Stories