Verizon, Samsung software update coming soon to unlock bootloader on Samsung Galaxy S III?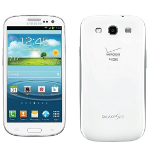 Just the other day, after it was announced that
the bootloader on the Verizon version of the Samsung Galaxy S III would be locked
, both
Verizon and Samsung introduced the Developer's Edition of the phone
that will be available from Samsung's website. The device, priced at $599.99, offered an unlocked bootloader but also
was announced after many hackers had already purchased the locked model from Big Red
. That doesn't even take the difference in price into consideration. Still, for those who wanted an unlocked bootloader badly enough, there was now a solution straight from the manufacturer and carrier, although it has not yet been officially announced.
"My name is Levar and thank you for contacting Verizon Wireless about the boot loader for the Galaxy S3. I know this may be frustrating but there will be a solution soon coming. Samsung will be releasing a software update to unlock your device. Right now, we do not have a date for the release but it shall be soon. Verizon Wireless appreciates you as a customer and your patience in this matter. Have a great weekend! Sincerely, Levar, Verizon WirelessCustomer Service"-Letter from Verizon
We might add that rooting exploits were found on the Samsung Galaxy S III for AT&T, Sprint and T-Mobile. Quickly,
workarounds were created by Xda and Rootzwiki
so that all Verizon customers could install custom ROM's on their Samsung Galaxy S III, even if they
couldn't afford to buy the Developer's Edition of the phone
.
But now, it appears that Verizon and Samsung might have caved. Hints in emails from Verizon's customer service and in live chats say that the
phone will soon receive an update that will unlock the bootloader
. A live chat with a Samsung rep produced an unintelligible response that seemed to deny that an unlocking tool was current available and oh yeah, don't forget to blame Verizon for this. Still, while the wording was in less than perfect English, it did seem to leave the impression that a future unlocking tool will be made available in the future.
If Verizon and Samsung go ahead with the update, there
will be a solution for everyone who wants the bootloader on the Samsung Galaxy S III unlocked
. There will be the Developer's Edition handset for those who don't mind paying $599.99 for a new phone without a warranty. For those who already bought the subsidized device from Verizon and can't wait for an update, there are the workarounds. And last but not least, Verizon's reps seem to believe that the software update that will unlock the bootloader is coming soon. Everybody happy? Not so fast. There is some thought that the reps are confused and are talking about a global unlock so that the phone will work overseas, or that there is some confusion about the Developer's Edition of the Phone. Never a dull moment, right?
source:
DroidLife