Verizon Samsung Galaxy S III pre-orders start June 6th
36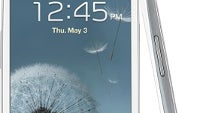 The first photographs of the Verizon Samsung Galaxy S III have surfaced and it looks almost exactly like the international version of the SGS III. This, of course, confirms Samsung's earlier promise of no significant outer changes, but under the hood there's a whole different dual-core Qualcomm Snapdragon S4 chip with integrated LTE radio, so you can take advantage of Verizon's 4G network.
A picture is worth a thousand words, though, and in this case, there's a couple of them. Interestingly, there's no Verizon logo up front, only on the back. An interesting development for the carrier, putting more stress on the handset itself. This will definitely help further establish Samsung's Galaxy brand, given that other carriers are also expected to have a version of the SGS III that is modified little or not at all.
Verizon has announced
Galaxy S III pre-orders
kick off on June 6th at 7am EST. You'll be able to pre-order a 16GB SGS III for $199.99 on a 2-year contract and a 32GB one for $249.99. The phone requires an LTE data plan, but that doesn't surprise anyone, does it?
VERIZON WIRELESS ANNOUNCES SAMSUNG GALAXY S® III COMING TO AMERICA'S LARGEST 4G LTE NETWORK
The Next Generation Smartphone with the Power to Share and Intelligence to Make Everyday Life Easier
BASKING RIDGE, N.J. – Verizon Wireless and Samsung Telecommunications America (Samsung Mobile) today announced the 4G LTE-powered Samsung Galaxy S® III is coming to America's largest 4G LTE network.
Galaxy S III customers can use Share Shot to create their own temporary photo sharing network with a group of friends who are nearby at the same party or event. Photos can be taken by any member of the group and shared with the entire group. One touch sharing with S Beam allows friends to share pictures, videos, documents and more by simply touching two Galaxy S III devices' backs together. Galaxy S III customers can take advantage of 4G LTE to share live video broadcasts of life's special moments with their Facebook® friends using the Color app. As an exclusive feature for Verizon Wireless, customers can live broadcast video with audio when using Color.
The Galaxy S III has a 4.8-inch HD Super AMOLED™ display and runs Android™ 4.0 Ice Cream Sandwich. Watch a video while texting friends or surfing the Web at 4G LTE speeds with Pop Up Play. Videos can be played in a small window while customers use the rest of the display to complete other tasks such as typing emails, organizing calendars and updating their social networks. Multi-tasking is seamless with the 1.5 GHz dual-core processor and 2 GB RAM paired with the Verizon Wireless 4G LTE network. Customers can also interact with the Galaxy S III in simple and fun ways thanks to Motion Gesture. With Motion Gesture, customers can initiate a phone call from a text message by simply raising the phone to their head, or they can pause a video by covering the display with their hand, and even get to the top of an email message and contact list.
The Verizon Wireless 4G LTE network is currently available in 258 markets, covering two-thirds of the of the U.S. population. Verizon Wireless 4G LTE will be in 400 markets covering 260 million people by the end of this year.
Additional features:
Smart Stay – So intelligent, the display only dims when the customers' eyes are closed or no longer facing the screen.
S Voice™ – Featuring natural language recognition, you can control the apps and services used most with words instead of touch. Use S Voice to turn the volume up or down on the music player, answer or reject incoming calls, shut off or choose to snooze the alarm clock, or take a picture by saying "smile" or "cheese."
AllShare® Play – Share HD videos and your favorite songs by streaming multimedia content from the Galaxy S III to a compatible Samsung Smart TV® or home audio system when connected to the same Wi-Fi network, and remotely access files on up to six Samsung devices.
Evolved camera capabilities – Burst Shot mode instantly captures 20 continuous shots and Best Photo feature selects the best shot to display.
Enhanced camera – 8-megapixel rear camera with zero-lag shutter speed and a 1.9-megapixel front camera so customers can capture pictures and videos of themselves or video chat with family and friends.
Mobile Hotspot – share a 4G LTE connection with up to 10 Wi-Fi-enabled devices.
microSD™ card slot for expandable memory.
Pricing and availability:
Samsung Galaxy S III will be available online for pre-order starting June 6 at 7 a.m. EST at www.verizonwireless.com/galaxys3 and will be available in Verizon Wireless Communications Stores and online in the coming weeks.
The Samsung Galaxy S III will be available in 16 GB and 32 GB models for $199.99 and $249.99 respectively with a new two-year customer agreement. Customers will also have the choice of the Galaxy S III in two colors, Marble White or Pebble Blue.
Customers that purchase a Galaxy S III will need to subscribe to a 4G LTE mobile broadband data package starting at $30 monthly access for 2 GB of data.
Customers can visit http://www.verizonwireless.com/galaxys3 to sign up for more information and availability details on the Samsung Galaxy S III for Verizon Wireless. For additional information on Verizon Wireless products and services, visit a Verizon Wireless Communications Store, call 1-800-2 JOIN IN or go to www.verizonwireless.com. Follow @VZWnews on Twitter™ for the latest news on Verizon Wireless.
Recommended Stories