Verizon LTE vs T-Mobile HSPA+ vs Sprint WiMAX
38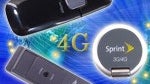 Introduction
: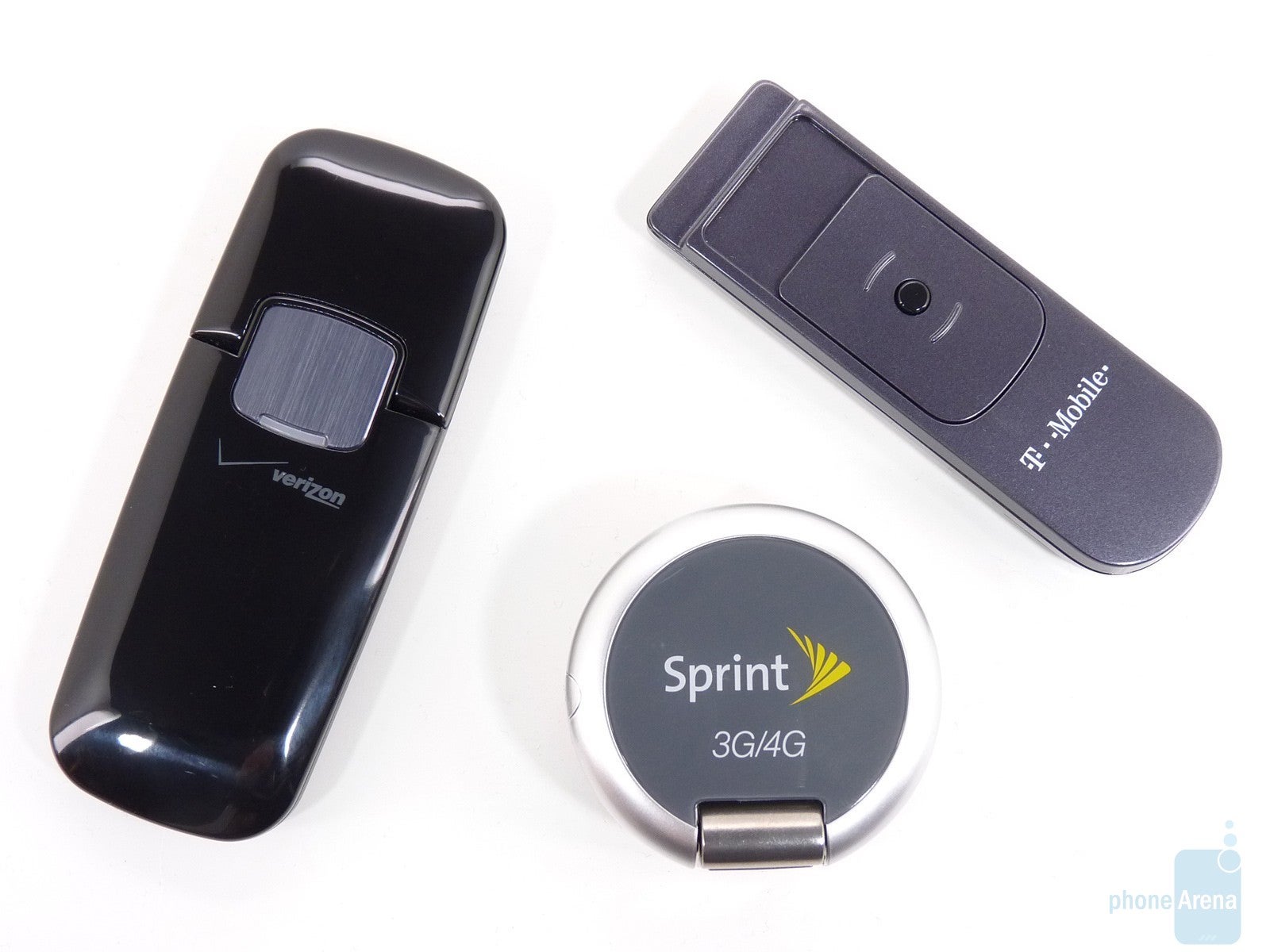 The nation's first and only 4G network, the nation's largest 4G network, the nation's most advanced 4G network… the public barely knows what 4G is these days and already they're being bombarded by marketing taglines. So what is the nation's best 4G network, and why? In this article we'll take a look at speed test from three of the nation's four 4G carriers (AT&T couldn't provide us with a modem) and hopefully make some sense of it all. First, let's take a quick look at the devices and the technology behind them.
The Devices
: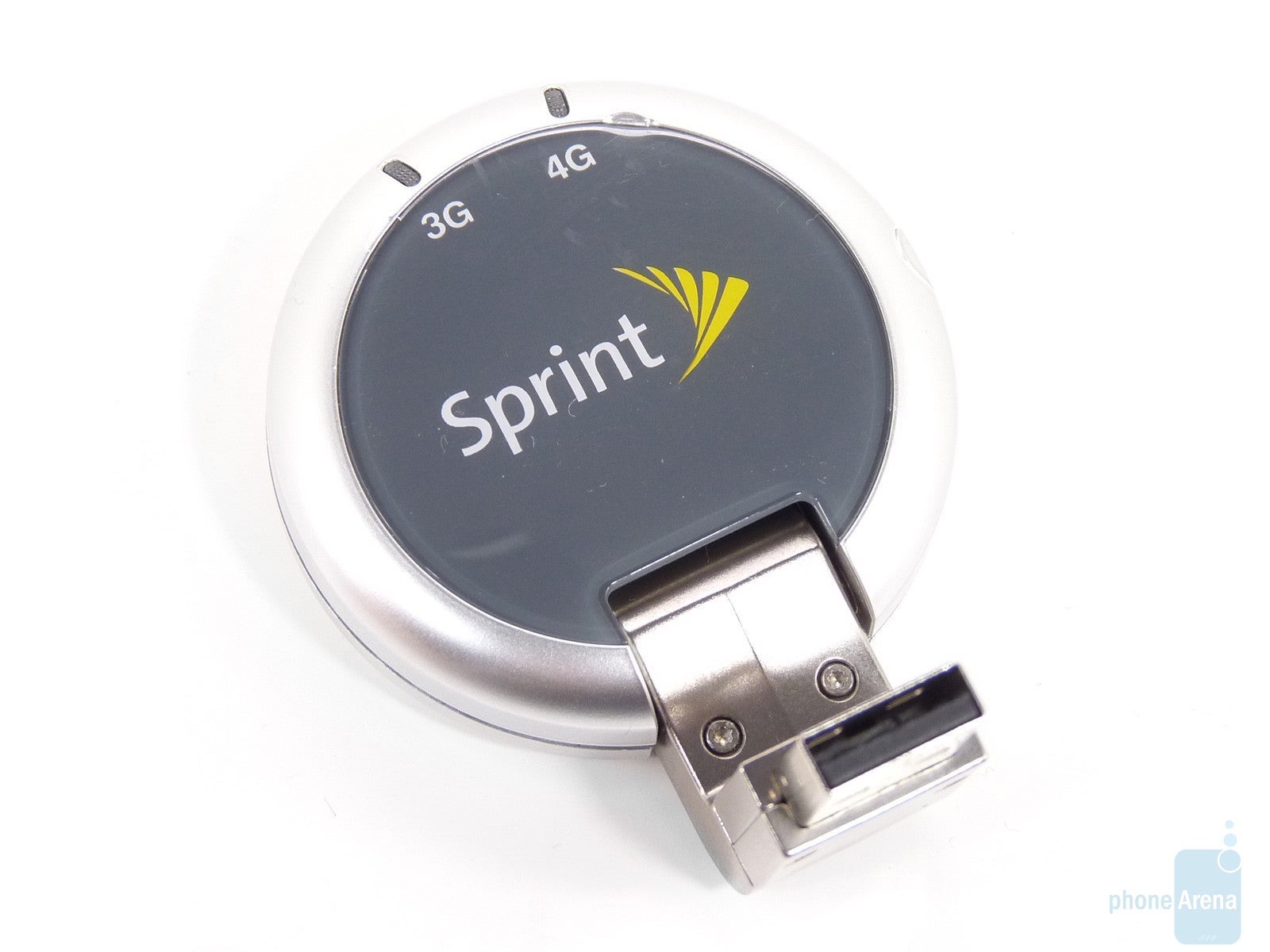 From
Sprint
- the nation's "first" 4G carrier- we have the Sierra Wireless 250U 3G/4G USB modem. The 250U is capable of using both Sprint's 4G WiMAX network and their 3G EVDO Rev. 0 or A network. Their 4G WiMAX network covers 71 markets, and has been out for a bit over two years. Sprint claims average download speeds of 3-6Mbps with peaks of more than 10Mbps.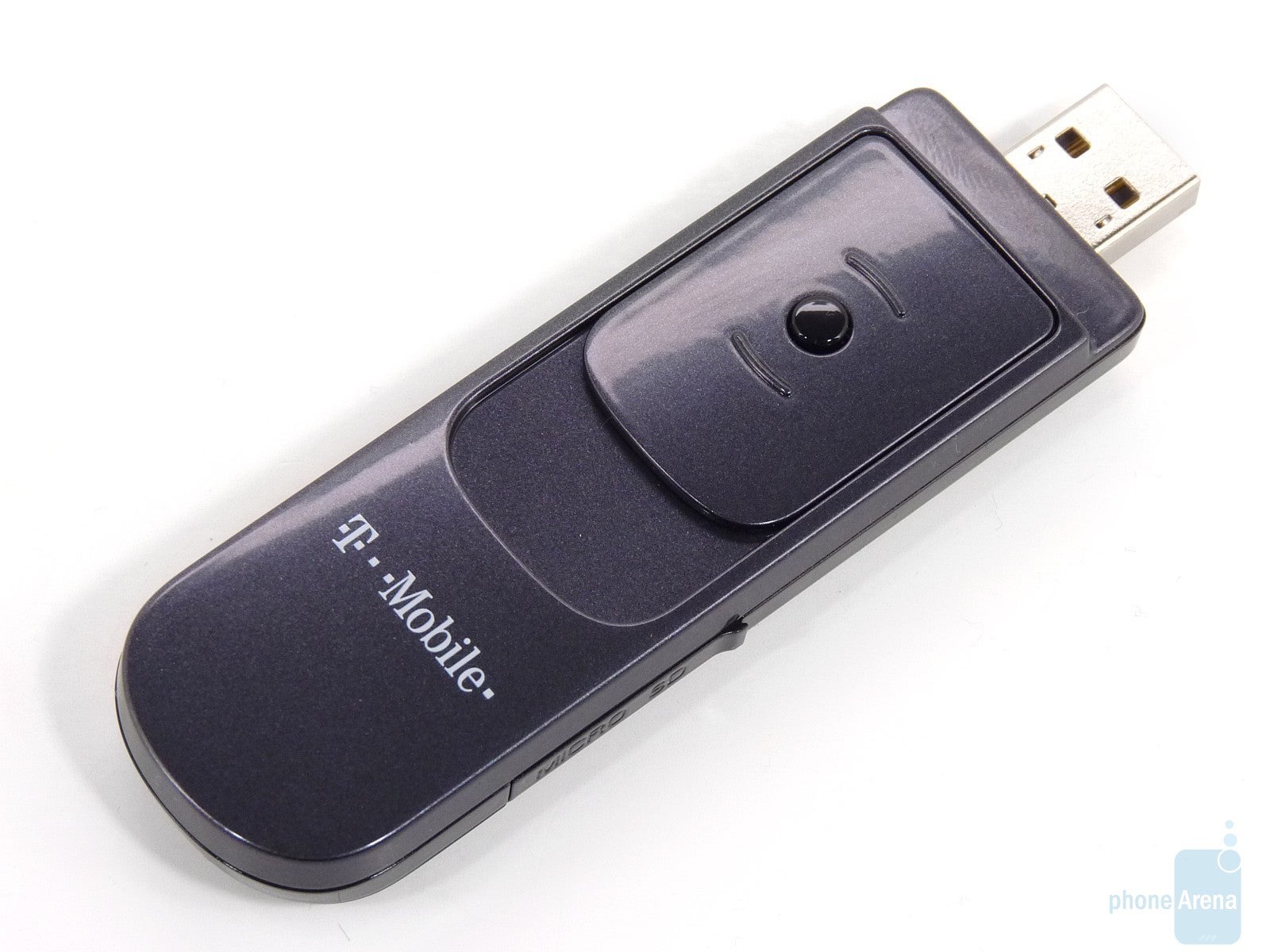 From
T-Mobile
- the nation's "largest" 4G network- we have the webConnect Rocket. It utilizes T-Mobile's HSPA+ network and is capable of download speeds up to 21Mbps and peak upload speeds of 5.7Mbps. T-Mobile has recently announced that they will bring the network's capacity up to 42Mbps, but it must be noted that devices must also be capable of these speeds as well. Unlike Sprint's WiMAX and Verizon's LTE, not all 4G devices are created equal on T-Mobile. T-Mobile claimed coverage of 100 markets and 200 million people by the end of 2010.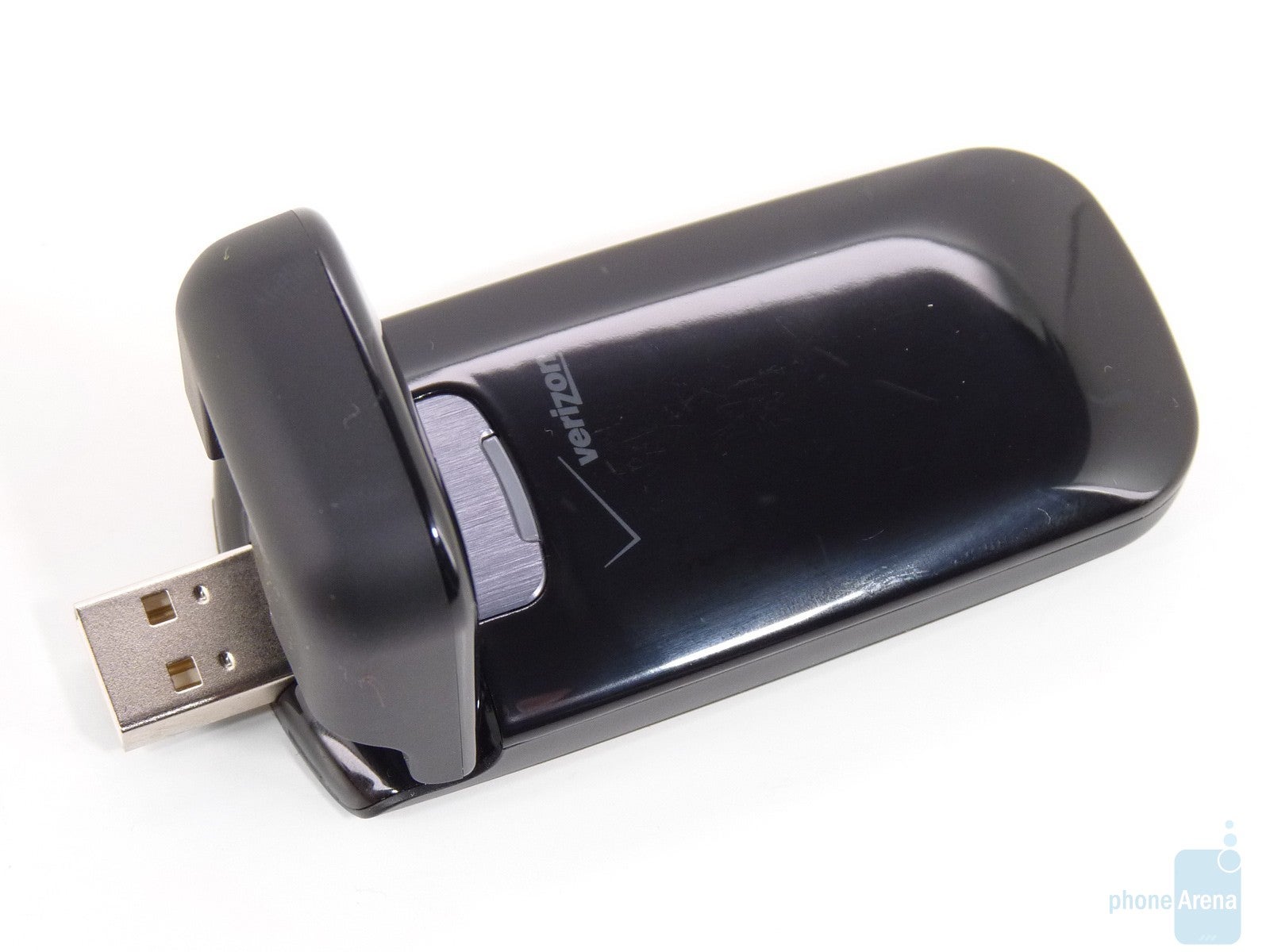 Finally, from the nation's "most advanced" 4G network, the LG VL600 LTE modem runs on
Verizon
's 4G bands. LTE is the new kid on the block, but with AT&T and a number of foreign carriers backing the GSM-based 4G standard it looks poised to overtake WiMAX's 2 year head start quicker rather than sooner. Verizon claims speeds of 5-12Mbps on their LTE network, and the VL600 is also capable of running Verizon's EVDO Rev. A network for the cities without 4G yet. Verizon currently claims 4G service in 38 markets with 110 million customers covered.
The Test
:
We tested service in
Columbus, OH
, which offers 4G coverage from all three carriers. We used Speedtest.net (makers of the app we use when testing smartphone speeds) to perform the tests and ran 10 tests with each device, recording ping time (in ms,) upload speed (Mbos) and download speeds (Mbps.) Ping is also referred to as latency, and measures the time it takes two devices to communicate between each other; the smaller the number the better. The tests were all run back to back, one carrier after another, within a time frame of about 15 minutes so as to limit any possible environmental factors. We used a 10% trimmed mean on each of the three categories to eliminate any falsely high or low numbers. We ran three sets of tests in different areas of town to eliminate any geographical strengths or weaknesses one area may have had for a particular carrier.
The Results
: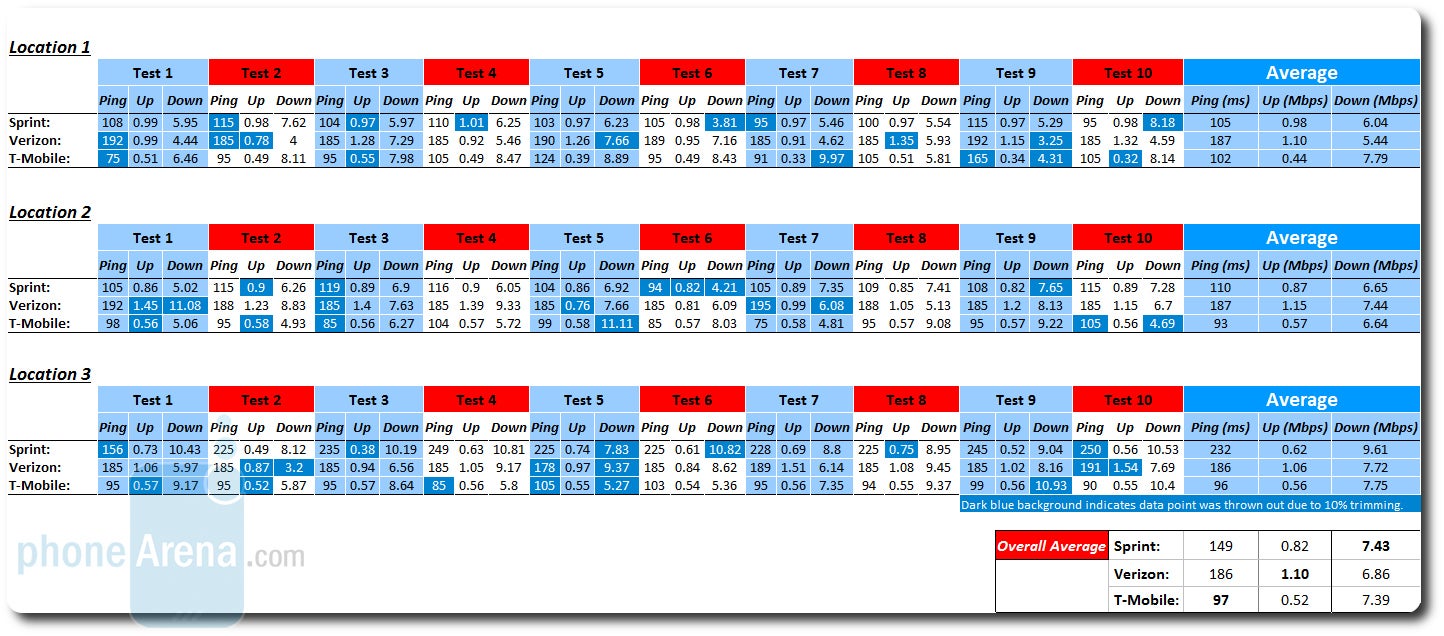 All tests have been done in Columbus, OH
As you can see from the numbers each carrier had its strong points. Sprint (7.43Mbps) edged out T-Mobile (7.39) with the fastest average download speeds, but T-Mobile made up for the small difference with the lowest latency at 97ms. Verizon clocked the fastest upload average at 1.10Mbps.
Sprint claims 3-6Mbps as their average download speeds, but 6 was the minimum average we got on our tests and 9.6 was the highest. We don't mind the whole under-promise/over-deliver strategy. Their upload speed is fine for now, but in the future we'd expect to see that number creep up. In one of the locations in particular the speeds were abnormally slow which brought the numbers down a bit. Similarly, in two of the locations ping was very good, hovering just above 100ms, but at the third location it resulted in an average of 232ms which pushed the overall average to 149. Latency comes into play for things like online gaming and video chat, where responsiveness is important. One advantage Sprint and Clearwire have in the 4G race is spectrum. Clearwire holds gobs of it (150 MHz, at least 50% more than anyone else) and more spectrum means bigger pipes to push the data through. Clear's WiMAX runs in 30 MHz chunks whereas VZW has 20Mhz chunks to run LTE off of. While WiMAX appears to be losing the war for widespread 4G adaption, Sprint has not ruled out LTE and says that WiMAX and LTE share about 80% of the same characteristics, making the switch fairly simple. (Tell that to the early adopters whose WiMAX hardware will become obsolete!)
For now we have to hand it to T-Mobile - the nation's number four carrier is delivering a very rich 4G experience even if it is based off of 3G technology. The upload speeds are a concern, however. To the average mobile user upload speeds aren't particularly important, but with 4G speeds come advanced features, the most prominent of which is video chat, which requires uploading video. The network is capable of pretty significant upload speeds (5.7Mbps) so T-Mobile needs to find a way to better utilize this. While T-Mobile's HSPA+ network is capable of delivering crazy fast speed, it is only technically a 4G standard and in reality marks the end of the line for 3G with little growth potential. Speeds like that will get Big Pink by for another year or two, but they have yet to commit to a next generation 4G standard.
Overall Verizon would be the loser in the comparison, but with average download speeds of 6.86Mbps and upload speeds at 1.10 they weren't exactly slow. Ping time was Verizon's biggest drawback; unlike Sprint who had two good sets of data and one bad, Verizon was consistently pulling 185ms no matter when or where the tests were performed. The advantage Verizon has is that LTE is still a fairly new technology but is gaining traction quickly. WiMAX has been around for two years and still just slightly bested the technically superior LTE standard, but like we said things like spectrum come into play just as much as underlying technology.
Conclusion
:
Of course speed isn't everything and cost can also greatly affect your decision. In general T-Mobile's offering is the best at
$40/month
for 5GB of data. Beyond 5GB there is no additional charge, though speed may be throttled. Verizon 4G comes in at
$50/month
for 5GB or $80 for 10GB, both with a $10/GB overage charge and access to the 3G network as well. Sprint is the only one of the carriers to offer unlimited 4G, a luxury that comes at a premium price of
$60/month
which also includes 5GB on their 3G network. However, Sprint has recently launched single mode 4G devices (meaning no 3G capabilities) and plans are much better. For USB modems the service runs $50/month for unlimited service, for a desktop modem, the service drops to just $35 if you have another line of Sprint service. It would appear Sprint is trying to find its way into the home internet market.
This is a good foreshadow of the market to come. In the future your wireless provider will be making a play into your home with super fast internet service and the option to take with you on the go. 4G will also allow carriers to move to all IP based networks, killing voice as we know it (for the better.) The industry is still immature and there is still some grappling as to what 4G really means, but make no mistake - it is coming fast.
Recommended Stories