Verizon DROID X ad mistakenly features iPhone screen
10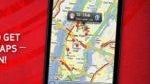 iPhone owners got a laugh at Motorola's expense, this morning. In the course of creating their holiday sale images, Verizon apparently rushed through their Photoshop work, leaving an iPhone's Google Maps screen on a
Motorola DROID X
.
Granted, the ad was about Google Maps, but that's still a serious mistake. For one thing, why does
Verizon
have iPhone images in their system anyway? Odds are that it was a result of the marketing department, or even a third party contractor, just searching for "Google Maps," and then copying the first image they found.
The ad has since been changed to an appropriate Android screen, but we imagine someone's still in the hot seat. The recent
marketing battle
between Apple and Motorola over Flash capability and
Antennagate
make this mistake all the more significant. Maybe this means Verizon is stocking up on iPhone images for their own launch?
source:
Verizon
via
Engadget