Velocity Mobile reveals more of its Odyssey interface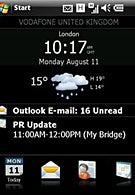 Back in April, during the CTIA 2008 show,
Velocity Mobile
attracted the attention, revealing its first two models. Both have nice specifications and design and were announced with versions suitable for AT&T, T-Mobile and the European carriers. Velocity Mobile announced that they are emphasizing not only on high-end features, but also "on ease-of-use, sleek and attractive design".
In order to be easy-to-use, a Windows Mobile smartphone must get some interface personalization (HTC offers the TouchFLO 3D and Samsung has the TouchWiz in its OMNIA, etc.). The pictures of the Velocity phones showed them with a weather application on the homescreen, but there was no information on what other personalization they will have. The official site of the manufacturer now has a division called Odyssey, which is the name of the interface itself. Frankly, the demonstration of its features didn't impress us.
The
homescreen
shows nothing more than the weather app and a few lines with service information (upcoming events, etc.) – there are no tabs with functionality directly from here (for example for playing music or dialing the favorite contacts) and there are no shortcuts either. Swiping a finger upwards from the bottom of the screen reveals a
"taskbar"
, whose four shortcut icons can be personalized. The only other feature is
VOTA
, which stands for Velocity Over the Air; hopefully, with OTA upgrades the personalization plug-in will be able to receive additional functionality.
In one of the demonstrations,
Vodafone
United Kingdom name can be noticed. Although it can mean absolutely nothing, it hints that this may be one of the carriers to offer the Velocity handsets. However, neither Vodafone nor Velocity Mobile have announced this for the moment.
source:
VelocityMobile