Use your camping stove, sticks and debris to charge your mobile device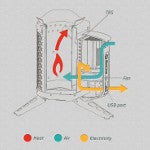 If you are the type that loves to go camping, but can't be without your smartphone, the BioLite Camp Stove was made for you. Let's face it, unless you have the Motorola DROID RAZR MAXX,
you're going to run our of battery life
well before
that bear attacks your tent
the sun rising and the birds chirping wakes you up the next morning. If you are miles from an electrical outlet and a 100 mile extension cord is too much of a hassle, you will need a way to recharge your phone while in the middle of nowhere.
Here is where the BioLite Camp Stove becomes handy. Using
whatever you can find in the woods to burn
, leafs, sticks, pine cones, the Stove converts the burning of it into electricity and using a USB port on the stove, you can be updating your Facebook status in no time. And because this is a working stove, you can boil water (in case someone is giving birth in the wilderness) or cook up some grub at the same time. The beauty of it is that you need no fuel, you are not polluting the environment (except with your conversations and tweets) and it costs $129.
recovery following a hurricane
know how hard it can be to live without electricity, and while a generator will provide more electricity, it requires gas and if you don't have enough air coming into the area, you could end up at the morgue. With the BioLite Camp Stove, all you need to find is some debris that can be burned, and you can cook some hot food and power up your handset. (Of course, that's a moot point if your carrier is down).
If you're planning a camping trip this year, or live in an area threatened often by hurricanes, you might find this a useful product. If you are interested in ordering one, check out the sourcelink.
source:
BioLite Camp Stove
via
Gizmodo