Updating your Windows Phone 8.1 over a cellular data connection may leave your phone bill unscathed
9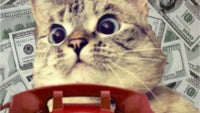 Updating the OS on one's phone while on the go has always been a no-no. With systems getting more and more complex, patches have started to weigh in at close to, if not more than, 100 MB per download. Now, this is all fine and dandy for users with unlimited data plans, but truth is – a lot of people have a cap on their 'net allowance, especially the budget-oriented consumers.
Now, Microsoft, who has recently aimed its efforts towards the entry-level and mid-tier crowds, with handsets like the
Lumia 530
, the selfie-centered
730
/
735
, and even the "
affordable flagship
" -
Lumia 830
, will seemingly try to negotiate with carriers to allow users to download Windows Phone OS updates via their data connection charge-free. The latest patch for the Windows Phone GDR 1 update (currently only available as dev preview) has a note in the OEM documentation, with instructions for mobile operators on how to enable zero-rating for Windows Updates (zero-rating meaning that whatever megabytes you download from Microsoft's servers, housing the update, will not count towards your mobile bill). The size limit for a free download is set to 100 MB by default, but Microsoft says that operators can set it to whatever number they desire.
Here is the quote from the OEM documentation:
This topic shows how Mobile Operators (MOs) can enable and test Windows Phone updates to work with zero-rating. Zero-rating allows users to download data, such as device updates, without being charged for data usage.
The method used in this topic prevents updates for non-Windows Phone devices connected via Internet Connection Sharing (ICS) from being zero-rated.
Add the following two URLs to your network as zero-rated sites:
http://wp.download.windowsupdate.com
http://wp.ds.download.windowsupdate.com
Once those URLs are zero-rated, there are no more actions to take to get zero rating in place. It will be effective for all Windows Phone devices (both operator variant and open market devices). The first eligible update for zero rating is Windows Phone 8.1 GDR1.