Update to BBM app next week will allow users to add stickers to BBM chat
4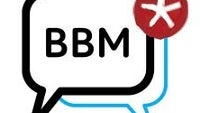 Last month, we told you about BBM stickers,
one of the new features to the messaging service that BlackBerry is adding to it
in order to spiff it up. Once
Facebook decided to pay $19 million to WhatsApp
for the messaging app, it became apparent that BlackBerry could have some hidden value in BBM. No, stickers won't add billions of value to BBM, but they will bring in some additional revenue. BlackBerry does have a plan to monetize BBM,which it discussed on Tuesday. Stickers are just the beginning of that plan.
Stickers are "
bigger, richer, more emotive
" than emoticons, according to BlackBerry's head of Product Marketing, Jeff Gadway. They take up their own line in BBM chats, and eventually they might be animated. While a small number of stickers will be free, most will cost $1.99 for 20 to 25, although that price might be changed depending on how well they sell at that price. The stickers will be sold in the BBM Store and will be available next week after an update to the BBM app.
Stickers have been popular on other messaging apps and are the starting point for BlackBerry's goal to sell virtual-goods on BBM. Eventually, companies will be paying BlackBerry for the right to set up discussion groups in BlackBerry Channels,
something that is being tested right now
. Sponsored invites are also part of the current beta test. At the end of the day, we wouldn't be surprised to see the company spin-off BBM to take advantage of the insane valuations given to messaging apps right now.
source:
MobileSyrup