Update for Motorola DROID Pro being sent out in phases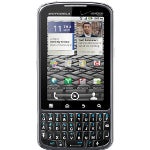 During the latter part of last week, a software update for the Motorola DROID Pro was released. If you haven't received it yet, there is no reason to be alarmed as the release is being done on a staggered basis.
Among the changes that the update (to Version 3.8.7.XT610.Verizon.en.) brings is encryption of data that is stored on a microSDcard. Other changes will be found on the calendar and in the email application. And while not the most earth shattering piece of news, the update will allow the VCast app store to become pre-loaded on the device.
Additionally, the new software upgrade will be like a can of Raid-it will kill bugs dead. The on-screen clock will now keep the correct time (always important for a business device), text messages will no longer display the incorrect recipient and the calendar will no longer delete events if updated.
All in all, while not an upgrade to Android
2.3
, your Motorola DROID Pro should run a little better with the removal of those bugs and some others, and you might sleep a little better at night knowing that the contents of your microSD card are encrypted.
source: Motorola via
AndroidCentral