Update brings some Froyo features of the Android Market to Eclair powered phones
This article contains unofficial information.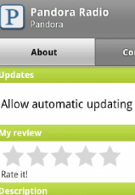 Some owners of Android
2.1
flavored phones like the Motorola Milestone, Samsung Vibrant and Samsung Fascinate are finding themselves able to set automatic updates for their apps and do other things that are usually available only to those with Froyo flavored Android handsets. It seems that some holders of Eclair phones are the recipients of a "silent" upgrade in the Android Market from build 1714 to build 2007.
If you own an Android 2.1 device, let us know if you notice some new features that you have in the Android Market. If you have not yet received the new build, we would assume that it is coming to you soon. Now, as far as that Froyo upgrade is concerned...
source:
AndroidCentral