Update: Samsung Epic 4G beating the competition to the punch with an August 11 launch?
26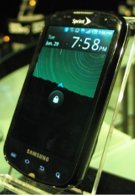 Look who is planning to rain in on the parade for both the upcoming launches for the BlackBerry Torch 9800 and Motorola DROID 2 – it's none other than Sprint's second 4G powered smartphone. One of BGR's Sprint sources stated that Sprint's version of the Galaxy S, the Samsung Epic 4G, will be splashing down for all to have by just one day earlier than the other two big handset launches this month. So that means you can circle down August 11th tentatively with an erasable pen until Sprint gives the official confirmation, but the same source goes on to say that a stores will be opening up at 8:00 AM for the anticipated handset. With less than a week left until the rumored release date, it'll be interesting to see who which one will triumph and rise above the competition between these three smartphones.
**Update**
One of our anonymous sources dropped us a line saying that there was a communication sent out today that the rumored launch date of August 11th for the Samsung Epic 4G is false and that no official date has been set for its release.
Samsung Epic 4G Specifications
|
Hands-on
source:
BGR