Upcoming Nexus 7 tablet with record pixel density detailed in alleged live chat with Asus
20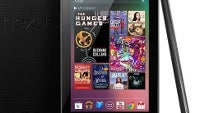 Now this could very well be an elaborate hoax which we can't imagine one would go through the trouble to make just for regurgitating some specs we've already heard about numerous times, but an alleged live chat with an Asus rep has revealed the laundry list of technicals for the upcoming second edition of the Google Nexus 7 tablet.
Granted, the rep places Q2 end in the month of July, but it's not the first less than knowledgeable rep, nor will this be the last. More fun is the fact that he gave out the full list of specs with the warning that this is still not public, yet they'll send it out for review anyway. Either the announcement is imminent, or the rep doesn't really care, or maybe both.
As you can see below, the
7" 1980x1200 pixels screen
has been confirmed, along with a Snapdragon 600 processor, 5 MP rear camera, 4000 mAh battery, and optional 4G connectivity.