Upcoming Mass Effect iOS game will change your Mass Effect 3 experience
2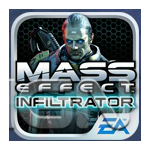 This isn't the first time that a Mass Effect game will be hitting mobile devices, but the stakes are much higher this time around because your progress will translate to
Mass Effect 3
and potentially change your experience. The first time Mass Effect made its way to iOS devices was with the game/comic mashup
Mass Effect: Galaxy
, which didn't get the best reception from users.
Mass Effect: Infiltrator
, which will be developed by Iron Monkey Studios. If the name sounds familiar, it's because that is the same development team that built the impressive
Dead Space
game for iOS and Android, so that speaks well to the potential of this game.
Infiltrator
will be a 3rd-person shoooter in which you rescue prisoners. The tie-in to the upcoming
Mass Effect 3
will be in that every prisoner you rescue will count towards the "Galaxy at War" mode in ME3, which influences how the story plays out.
There is no word on a release date, but given that ME3 is due out on March 6th, we'd assume that
Infiltrator
will be out before then. There is also no word on an Android version of the game, just the iOS version. In addition to
Infiltrator
, there will be an iPad app called Mass Effect Database, but no info on that either.