Unlocked Moto X (2014) to be called "Pure Edition"
18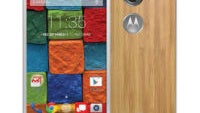 One of the things we noticed in the first Moto X (2014) press render leaks was that the
Verizon Messages app
was on the home screen, meaning that the new Moto X was giving way to carrier bloat, at least in a limited form. Now, we're hearing about the naming that Motorola is using for the unlocked Moto X and we can't help thinking that the two ideas are related.
The Verge
is now reporting that the unlocked and unbranded version of the new Moto X will be called the "Pure Edition". It's easy to make the assumption from there that Motorola is making a sly comment on the carrier branded models. If the unlocked and unbranded version is "Pure", it implies that the carrier models have been tarnished with bloat apps and delays for software updates.
We do know that the unlocked Moto X (2014) will cost $499, but we don't yet know when to expect the phone to be available for purchase. Motorola hasn't given a specific release date for the phone, just that it would be coming out "later in September"; so, it is likely to be sometime in the next couple of weeks.