Unicode to meet with Apple next week to discuss adding emoji with red hair
7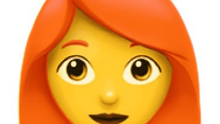 Unicode is the keeper of the emoji standards. The group is scheduled to meet with Apple in Cupertino next week to discuss the possibility of adding red headed emoji to a future emoji release. According to Emojipedia, there have been quite a number of complaints by red heads who would love to see more representation in an upcoming emoji version. Emojipedia says that over the last three months, the number one complaint it has received is the lack of emoji with red hair.
Apple is a member of the Unicode Consortium along with Google, Microsoft and some individuals. And while emoji may seem like a frivolous part of the digital world, Unicode and its members take it seriously. Problems arise when you are trying to represent as many different people as possible without leaving anyone out.
Unicode 10 is a few months from being announced, and some of the solutions to the "red head problem" include creating a whole new red haired person similar to the blond haired emoji. This would allow for the use of different skin tones and gender. Another solution is to create an emoji of a person with pale white skin and red hair. The downside to that suggestion is that every human emoji would then have seven different versions instead of six.
Other recommendations include allowing emoji to sport different hair color independently of skin color, which could add many more new emoji. The easiest solution from a technology standpoint is to turn the blond human emoji into a strawberry blond human emoji. This would require no new code points, but as pointed out in Unicode's document, "this option restricts red hair to a single display (man or woman) instead of supporting all human gestures and activities which may not satiate demand for a redhead emoji in all contexts."
When we told you that Unicode takes this seriously, we weren't kidding. And considering that only 1% to 2% of the public has red hair, adding such a feature to human emoji is far from being a done deal.
source:
Unicode
via
Emojipedia