Unannounced Samsung Galaxy J7's specs confirmed through retail website
10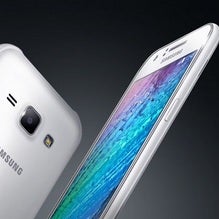 The
Galaxy J7
still hasn't been announced by Samsung, but there's more than enough evidence to suggest that it, along with the Galaxy J5, will be arriving very soon. Any shred of doubt about the existence of the J7 has just been all-but quashed with a leak of the handset's tech. specs, which have just popped up on the site of a Russian retailer. Moreover, the Galaxy J7 is also up for pre-order through said website, which can surely only mean that Samsung will be coming through with an announcement imminently.
By the look of the spec. sheet, which you can see at the foot of this article, the device is unashamedly mid-range, with its 5.5-inch display chucking out a modest 720 x 1280 resolution. Sure, it's still, strictly speaking, an HD panel, but it's not going to dazzle anybody, and given the phablet-sized canvas, those picking up the J7 will notice the pixels. With so many average handsets bundling a 1080p display these days, even those shopping on a tight budget might swerve the J7 and the
5-inch J5
, the latter of which will almost certainly follow suit with a 720p display.
There's an octa-core Marvel PXA1936 processor under the hood, which is accompanied by 1.5 gigs of RAM. Storage-wise, the J7 adds 16 GB natively, and those who like to hoard apps, games and other media content will be pleased to learn that there's a microSD slot in tow. Completing the vital stats, the J7 includes a very workable 3000 mAh battery, and the version listed on the Russian website mentions dual-SIM support. Whether a single-SIM version is planned for the likes of the U.S. and other parts of the world remains to be seen, but all will hopefully be clarified by an official unveiling in the near future.
We learned earlier this week that the J7 and J5 will
include the same TouchWiz UX
as the Galaxy S6 and S6 plus, but aside from also being handsets made by Samsung, there are precious few similarities between the new J models and the much-vaunted S6 duo.
We'll keep an eye out for the details on pricing and availability should they emerge, but hopefully, such info will be outed by Samsung when it decides to put an end to the speculation.