Un-carrier 8.0 to be announced tomorrow by T-Mobile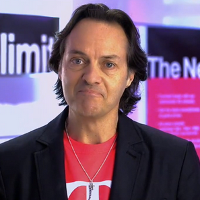 T-Mobile CEO John Legere will announce Un-carrier 8.0 tomorrow at 10:30am EST, during a live webcast on the Yahoo! Tech website. Legere will be accompanied by former NY Times and current Yahoo tech reporter David Pogue, who will be hosting this "fireside chat". Whatever T-Mobile's new initiative is, the carrier says that "
it is so big we had to keep it under wraps
." The T-Mobile newsroom will feature a link to the webcast.
Back in September,
the carrier unveiled Un-carrier 7.0, which was dubbed "Wi-Fi un-leashed."
At the time, the mobile operator announced that all smartphones sold to Simple Choice customers would support Wi-Fi calling and texting. Subscribers to the plan were also allowed a one-time swap to a handset that supports this initiative. In addition, T-Mobile also introduced free Wi-Fi calls to the U.S.from outside of the country. And the carrier also launched the T-Mobile Personal CellSpot. This device enables those with a poor connection to the T-Mobile network at home, to have something akin to a personal cell tower inside their house.
So just what will Un-carrier 8.0 bring?
T-Mobile has been lighting up the airwaves with extremely zippy 4G LTE coverage
in major metro areas. Perhaps that is part of what we will hear tomorrow from John Legere. No matter what is announced, you can find out all about it by checking in with us Tuesday morning, and sticking with us throughout the day.
If you'd like to give us your best guess as to what Un-carrier 8.0 will be, you can make your prediction by typing it in the box below!
source: T-Mobile