Umbrella boosts cell phone signal, charges batteries, protects from rain
9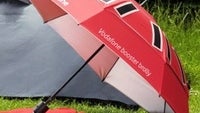 The
Vodafone Booster Brolly
is not your ordinary umbrella. It is a triumph of geek-inspired engineering! The accessory's primary function may be to protect its bearer from rain and the sun's scorching rays, but at the same time, a pair of antennas and a small repeater built inside the carbon fiber handle increase cell phone signal, as long as you are a Vodafone user.
Power is derived from 12 flexible solar cells, which are stitched to the heavy-duty canopy. And if that is not enough, the umbrella comes equipped with a battery and a USB port that can be used to charge a cell phone completely in a few hours. Despite all that additional gadgetry, the entire contraption weighs only 800 grams. Is that cool or what?
Dr Kenneth Tong, who is a lecturer in antennas and microwave technology at University College London, is the one responsible for this invention. Some of his other projects aim to optimize reception according to a cell phone's orientation, thus achieving the best quality call possible.
The Vodafone Booster Brolly will be shown off on June 22, during the Isle of Wight festival in the U.K. Pricing and availability remain unknown at this time, but we hope to find out more in the near future.