USPS bans international shipping of smartphones starting Thursday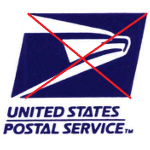 Wednesday will be
the last day that the U.S. Postal Service will accept smartphones for international shipping
. Actually, smartphones are but one item on a list that includes other electronic devices that are powered by lithium ioncbatteries such as cameras, laptops, GPS devices, MP3 players, tablets, Bluetooth headsets and power tools. While the USPS did not explicitly state the reason behind the ban, it is believed to be related to the possibility of lithium ion batteries catching on fire if they are not correctly installed in a device, or have a full charge.
"After May 16, mailing an iPad to a loved one serving overseas would require mailing it to a civilian address in the host country -- which, for a country like Kuwait, would make the price jump from the current Military Priority Mail rate of $5.30 to more than $20."-Fast Company
at least two fatal cargo plane crashes since 2006, including a UPS jet in Dubai
."You can check out the video below to see how destructive a lithium ion battery can be. In the meantime, if you absolutely, positively need to ship a smartphone out of North America, third party shippers such as FedEx, UPS and DHL
will be more than happy to have your business
. Last year, President Obama's administration wanted to change the classification of lithium ion to a hazardous material. The House, sensing a possibility for some economic displacement if such a law was passed, managed to get through a bill
that would prevent limitations of the shipping of lithium ion by air
.
The USPS will review the ban as the months go by, and could decide to allow smartphones and the other lithium battery powered products to ship through its pipelines again on January 1st 2013. If that decision is made, the one requirement will be that the batteries are properly installed in the phone or whatever device is being shipped.
source:
USPS
,
FastCompany
via
WPCentral