US regulators want featureless 'driver mode' for smartphones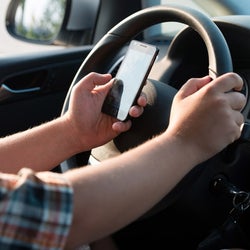 With the increase in traffic fatalities the past two years, the National Highway Traffic Safety Administration is doing its best to come up with ways to reduce them. One of the proposed methods is to limit the smartphone distraction for drivers, by implementing a 'driver mode' feature.
NHTSA will issue voluntary guidelines for smartphone makers, describing what the said mode should be, so drivers can stay connected, yet focused on the road. The guidelines propose smartphone manufacturers to limit some features and simplify the interface of their devices during driving. They also suggest that manufacturers should find ways to detect when a smartphone is in use while driving.
"Your smartphone becomes so many different things that it's not just a communication device,"
said Anthony Foxx, secretary of the Transportation Department.
"Distraction is still a problem. Too many people are dying and being injured on our roadways."
Foxx also commented that only a portion of the tech industry recognizes the threat apps and devices pose to drivers and there isn't a single opinion, backed by the entire sector. This could become a problem, if different developers and manufacturers implement different levels of distraction limitations.
For example, Niantic's Pokemon GO would urge you not to play, if you're moving at about 10 miles per hour or faster, but other games that are just as distracting, have no such features. This could trick a driver into thinking they're okay playing the game, without realizing that it's a severe distraction.
We honestly think that using any app while driving is a horrible idea, unless its your navigation app or music streaming service. And Bluetooth headsets exist for a reason. We urge you to employ common sense on the road and stay safe!
source:
New York Times