US Gov't won't ditch BlackBerry, security paramount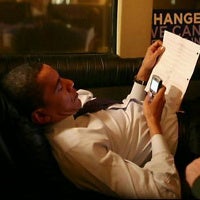 Recently, we heard reports about agencies inside the US Government ready to make the switch to the iPhone, and in some places Android could also have been considered, but now a Washington Post article reports that President Obama and the whole administration have to and will stick to their BlackBerries. Why? It's all about security, not wants, and while many would like to make the switch to the now more popular iPhone and Android devices, they remain bound to the 'Berries.
"We appreciate RIM's focus on security, which is paramount for government use,"
Casey Coleman, chief information officer at the General Services Administration (GSA), explained.
Of course, many people still love their BlackBerries, the whole email experience, BBM and the long battery life, and with LTE phones usually not lasting the day, there is a reason for that.
It's also worth mentioning that the transition to a new mobile platform will be pricey. Not only the phones, the whole platform underneath them has to adapt. At the same time, CIO Coleman confirms that "where appropriate" new technologies are being adopted.