UPS delivery guy steals FedEx iPad delivery, but it all gets caught on camera
31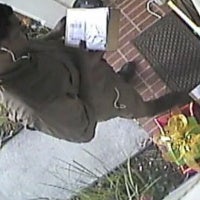 This Holiday season is a bit hectic - buying presents from everyone you often cannot make it to the store and have to order it all online. Deliveries from all sorts of places arrive on the same day, and that's usually not a problem.
Not in this case, though, where both a FedEx and a UPS package arrived with a couple of hours of difference, and the person who had to get them isn't at home. First, a FedEx package, which turned out to be an iPad, is delivered. The gadget is a gift for the homeowner's daughter.
All is good and well until a second package arrives, this time delivered by a UPS guy. All looks normal - he rings the bell, no one answers so he drops in his package and walks away.
But it's not all that simple. Luckily, a turned on security camera records everything, including the shadowy return of the UPS guy who then just steals the iPad that was delivered by FedEx and walks away with it under his clipboard.
Hopefully, his heart warms and he brings it back, but for the time being it is one less gift for a kid.
source:
SlashGear