UPDATED:AT&T's 3G MicroCell site is up and running
19

AT&T's 3G MicroCell web site is now live. The MicroCell is the carrier's version of the femtocell device that takes an area with a poor cellphone signal and turns it into a 5 bar 3G powerhouse.
All you need is a broadband internet connection (DSL or cable modem) and a computer linked online for registration. The device will handle up to 4 handsets at a time within 5,000 square feet of the unit, and any AT&T phone will work. BGR reports that the nation's second largest carrier will charge you $20 per month, a cost you pay to save the carrier from spending money on adding or improving its towers. But until an amendment is passed that guarantees each U.S. citizen the right to have strong 3G coverage no matter where they are, this is a price that many AT&T users will consider nothing more than a nuisance tax. Now that the site is up and running, you can expect the official launch to follow very soon.

source: AT&T via BGR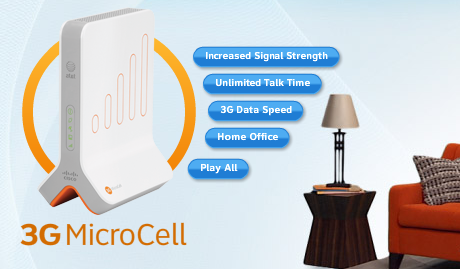 *UPDATE*
According to Gearlog, AT&T is running a trial in Charlotte, North Carolina. The carrier is charging $150 for the MicroCell unit and service is free. If you want unlimited calling, it will cost you $20 a month unless you are using a combination of an AT&T landline or DSL service at your address. There also is a $100 rebate on the unit if you go with the $20 monthly unlimited calling plan.
source:
Gearlog
Recommended Stories