UK's red phone booths are dead – long live the green phone booths
24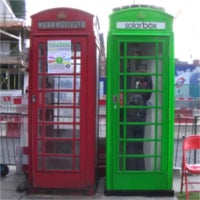 So, it's 2014 – a year when almost everybody and their dog has a mobile handset and is able to communicate with anyone they desire, no matter where they are. Just as the story of evolution and survival goes – this has rendered the good old landlines next to obsolete, especially when it comes to pay phones. If you think about it – even if your battery gets drained, you still can't make use of a nearby pay phone – because all of your contacts are on your personal handset – and when was the last time you memorized someone else's phone number?
Pay phones being obsolete is fine and normal, but unfortunately – this includes UK's iconic landmarks – the red phone booths. A couple of years ago, some companies tried to revive the red boxes, by transforming them into Wi-Fi hotspots, which was an OK effort, but not something that would bring them back as the pedestrian's best friend, which they used to be.
Now, a startup social enterprise, named Solarbox, has come up with its own product to revive the booths. Instead of having a phone inside them, the solarboxes will provide pedestrians with free electricity, so they could charge their own. The company's plan is to repaint the boxes green and install solar panels on their ceilings. On the inside – people would be able to find the most popular types of connectors for their mobile phones.
A solarbox's battery gets its juice from the Sun's rays and can charge up to 100 phones per day, and the creators claim that it has a "battery boost", which charges up 20% of a phone's capacity in 10 minutes. This can't be correct for all phones out there and we can't be sure what model they were talking about, so let's just leave it at "you can grab a larger-than-normal charge for 10 minutes", for example – while you are waiting for somebody.
Solarbox promises that the booths will be kept clean and well-maintained. Of course, the trade-off is that they will be locked during night hours (between 11:30pm and 5:30am). If you're wondering how the company intends to make profits out of this generous contraption – each box will be outfitted with a screen, behind reinforced glass, that will display ads.
The first solarbox went live on the 1st of October and 5 more should roll out by April 2015. Currently, the proud creators report that their brainchild grants electricity to 6 people per hour every day.