UDOO Android/Linux box conquers Kickstarter, bridges the gap between Arduino and Raspberry Pi
5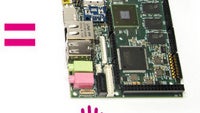 UDOO is an extremely interesting project aiming to bridge the gap between Arduino micro-controllers and the Raspberry Pi single-board computer. It is the best of both worlds supporting simple management of sensors and the flexibility a having a full-fledged computer.
UDOO is developed by people like Bruno Sinopoli from the department of electrical and computer engineering at Carnegie Mellon, but it needs the funds to go into mass production. Settings a modest $27 000 goal on Kickstarter it has already fulfilled in the mere two days it's been on the crowd-funding platform.
Right now, a $99 pledge is the minimum if you want to get the actual UDOO single-board computer. The project aims to ship the actual boards to customers in September 2013.
If you are not familiar with Arduino or the Raspberry Pi, let us quickly recap their functions. Arduino is a micro-controller that is the perfect tool for controlling all sorts of robotics. It supports a shields system where you can add "shields" on top of the controller extending its functionality with features like GPS chips and so on. The same shields are supported on the UDOO.
The Raspberry Pi on the other hand is a full-blown Android-running single-board computer. It has the same goal of exploring the Internet of things, but it is more flexible and can actually be used as a replacement computer if you hook up say a monitor and a keyboard/mouse to it.
The UDOO has the same functionality and it runs on both Android and Linux. Switching between the operating system is as easy as swapping microSD cards and rebooting. The UDOO board comes in different versions. You can get a dual-core one, or a quad-core one, with a slight increase in price.
Here is a quick rundows of its specs, but you should definitely hit the source link below to learn more about it:
Freescale i.MX 6 ARM Cortex-A9 CPU Dua/Quad core 1GHz
Integrated graphics, each processor provides 3 separated accelerators for 2D, OpenGL® ES2.0 3D and OpenVG™
Atmel SAM3X8E ARM Cortex-M3 CPU (same as Arduino Due)
RAM DDR3 1GB
54 Digital I/O + Analog Input (Arduino-compatible R3 1.0 pinout)
HDMI and LVDS + Touch (I2C signals)
Ethernet RJ45 (10/100/1000 MBit)
WiFi Module
Mini USB and Mini USB OTG
USB type A (x2) and USB connector (requires a specific wire)
Analog Audio and Mic
SATA (Only Quad-Core version)
Camera connection
Micro SD (boot device)
Power Supply (5-12V) and External Battery connector
source:
Kickstarter