Analyst says the number of iPhone units sold in a quarter is not as important as the Average Selling Price
17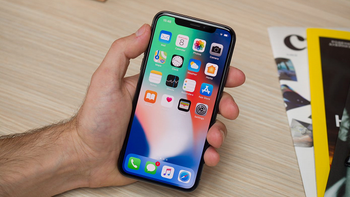 Wall Street is all strapped in and ready to buy or sell Apple's shares in bunches. Tomorrow, after the market closes, the company will report its fiscal third quarter earnings. Traditionally, this is the weakest period of the year for sales of Apple's smartphone since most consumers are awaiting the new models to be unveiled in September. As we noted the other day, the consensus of 17 Wall Street and independent analysts is that
Apple will report sales of 42.05 million units during the period from April through June
. That would represent a small 2.4% year-over-year gain.
But Swiss banking house UBS says that traders, investors and the general public are too focused on the number of iPhones that Apple rings up each quarter. More important, says the firm, is the Average Selling Price (ASP). UBS analysts say that any decline in the number of iPhone handsets sold by Apple last quarter, will be more than made up by sales of its highest price phone, the
iPhone X
.
A recent study done by CIRP found that 26% of Apple consumers paid more than $900 for their phones in March. That was sharply higher than the 5% that paid $900 and up for their phones during the previous year. That an increasing number of consumers are willing to pay $900 or more for their smartphones should show up in the Average Selling Price figure that Apple will report tomorrow.
During its fiscal second quarter,
Apple reported an ASP of $728
, an 11% year-over-year increase from the $658 Apple reported in 2017's fiscal Q2. The number of iPhone units sold by Apple last quarter will still be the headline figure tomorrow afternoon, and will still drive the stock up or down after hours Tuesday. But if Apple disappoints and reports fewer iPhone units were sold than expected during the quarter, you might want to check to see if the Average Selling Price rose before you dump your Apple shares.