Apple sells 52.2 million iPhone handsets in fiscal Q2, fails to beat estimates but stock still soars
50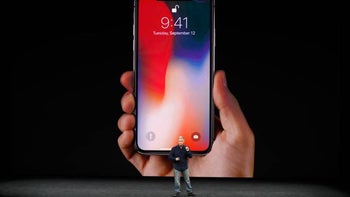 Apple sold 52.2 million iPhone handsets during the January to March period, which failed to beat Wall Street's estimate of 52.4 million. The figure was still higher than the 50.8 million units that Apple sold during last year's fiscal second quarter. Apple CEO Tim Cook, mindful of the rumors about sluggish sales of the
iPhone X
, said customers "chose iPhone X more than any other iPhone each week in the March quarter."
Despite Tim Cook's claim about iPhone X sales, the company reported an Average Selling Price for the iPhone of $728 versus forecasts of $740. That would seem to indicate lower sales than expected of the premium priced anniversary model. Despite the lower ASP, revenue attributed to the iPhone rose 14% year-over-year.
Apple also sold 9.1 million iPad tablets during the three month period, basically in-line with forecasts of 9.17 million units. Products like the Apple Watch and the HomePod smart speaker were mixed into the "others" category, which had $3.9 billion in revenue for the quarter. That beat analyst's forecast of $3.7 billion. Cook noted that wearables, which include the Apple Watch, had a 50% hike in revenue.
Services, an area that Apple is said to be focusing on with the slowdown in smartphone sales, had $9.19 billion in sales during the quarter. That was sharply higher than the $8.39 billion that Wall Street was looking for, and could be a reason for the stock to continue higher in the days ahead.
Revenue for the company topped estimates at $61.1 billion, and earnings per share also came in above expectations at $2.72 a share. And to help bolst the mood of Apple investors, the company said that its fiscal Q3 revenue will be in a range between $51.5 billion to $53.5 billion. Wall Street expected Apple to forecast $51.61 billion for the next quarter. The company reported growth in all geographic segments including a pop of 20% in Greater China and Japan. Cash on hand declined to the lowest balance since June at $267.2 billion.
After hours, Apple shares soared 3.7% to $175.38. The high for the year is $183.50. And just like that,
Wall Street's "full panic mode" over Apple
is over.
source:
CNBC
Recommended Stories