U.S. retailer Nordstrom helps shoppers pick holiday gifts with a chatbot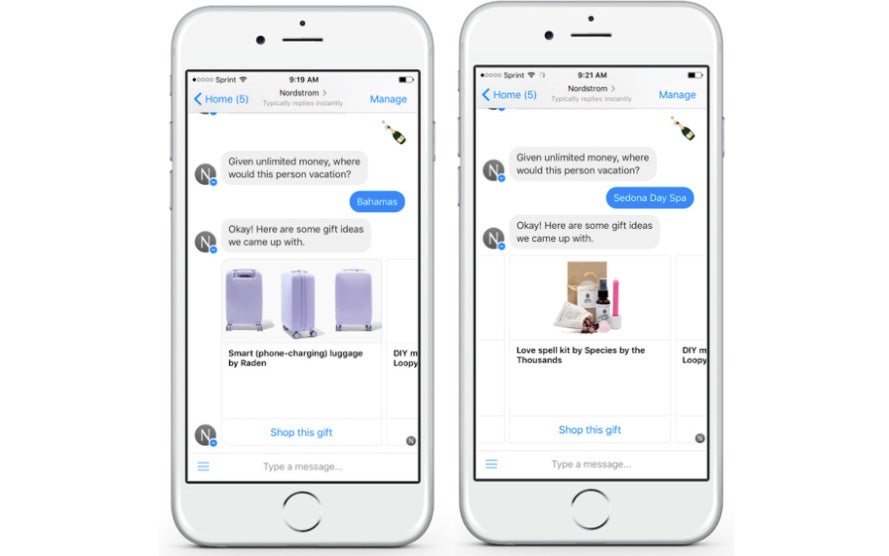 American department store chain Nordstrom appears to be really keen on making things easier for its mobile customers. The retailer has released a chatbot that helps holiday shoppers with recommendations on what to buy for their loved ones on IM apps Facebook Messenger and Kik.
The chatbot that will be online until Christmas Eve, was developed by a company called Snaps. Snaps is a leading force behind this so-called "1-to-1 marketing", as big brands such as Coca-Cola, McDonald's, Starbucks and Pepsi have also resorted to their services.
The way it works is very straightforward: you have to go to Nordstrom's page on Facebook and click on message or use the "Discover bots" function on Kik and locate the service. After the chat window appears, you have to press "Get Started" and the bot starts to ask you questions such as "Where would you find this person on the weekends?" or "Which of these emojis most relates to this person?" in order to display the most appropriate gift recommendations based on your answers.
The answers themselves are closed and a total of four are displayed for your choosing for each question. If you happen to type anything else and send it, the bot responds with a message that contains a link to Nordstrom's customer service.
Snaps CEO Christian Brucceli has said that Nordstrom's gift bot assures access to over 1 billion users globally via Messenger and Kik:
Nordstrom understands the need to start building data, case studies and results in messaging apps. At Snaps, we view Nordstrom's holiday chatbot experience as their first foray into the space. It is just one part of the brand's continued dedication to delivering content experience, intelligent messaging, commerce opportunities, and customer care on messaging apps - exactly where customers want to interact.
source:
GeekWire