Two Galaxy S8 model numbers tipped: SM-G950/G955 dubbed Dream and Dream2
13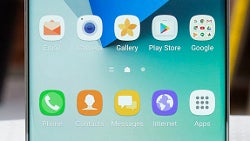 After the
Note 7
announcement and its
recall brouhaha
, it will be time to look forward to the next best thing from Samsung that has to negate the consequences of the ill-conceived battery packaging, and this could be no other phone than the Galaxy S8. There is enough info about the future flagship already that we had to make a
Project Dream roundup
of the tips and rumors, but a new report has just arrived to shed some light on the eventual model numbering, and the intriguing story behind it.
Apparently, the Samsung is making two versions of the
Galaxy S8
, codenamed internally Dream and Dream2, but the model numbers are more interesting here. Samsung is reportedly numbering the Dream and Dream2 models of the Galaxy S8 with SM-G950 and SMG955, respectively. Given that the
Galaxy S7
is SM-G930 and the
S7 edge
is SM-G935, that's quite the leap from 3 to 5 right there.
If this tip holds water, it's either that Samsung will have something else in-between, denoted as SM-G940 (like the rumored foldable phone), or the simpler explanation is that the Koreans number their editions with the culture's tetraphobia in mind. The number 4 is evidently considered unlucky there, that is why the
Galaxy S III
was GT-I9300, but the
S4
went directly to GT-I9500.
So far, all of this makes sense. There have been rumors that Samsung is already hard at work producing
5.1" and 5.5" Dual edge displays
for the Galaxy S8, so the SM-G950 could be the 5.1" version, while the SM-G955 the 5.5" model, which would be a natural successor of the current S7 edge. It's nor clear how Samsung will call them in the end, if the smaller 5.1-incher also comes with a Dual edge instead of a flat display like the S7, but we should know soon enough, given the speed with which the rumors about Project Dream are trickling down.