Tweet reveals the Verizon Ellipsis 7 tablet?
5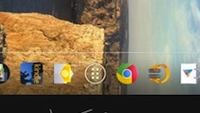 A tweet from evleaks on Wednesday night shows off a tablet apparently named the Verizon Ellipsis 7, 2013. The slate looks like your normal low-priced 7 inch Android tablet, a niche that includes the
Amazon Kindle Fire
, the slab that practically invented the category. Verizon has filed trademarks for both the Ellipsis and Ellipsis 7 names and we're sure that you have already noticed the rather thick bezel on the slate.
The trademark application for Ellipsis asks that Verizon get to trademark the name for a "
wireless telecommunications device featuring transmission of voice, data, image and video
." The Ellipsis 7 trademark is for a device that "
establishes a local, wireless network
" and would have a music player and a still image and video camera. There is no clue as to when Verizon might launch this device.
"I don't have any more info on this beyond the trademark application, and of course, couldn't and wouldn't comment on any unannounced device or product."
-Debra Lewis, spokeswoman, Verizon
For now, Verizon is silent about the Ellipsis or Ellipsis 7. Spokeswoman Debra Lewis said that she had nothing to add beyond the trademark applications, and that she wouldn't comment on an unannounced device.
source:
@evleaks
, USPTO (
1
), (
2
) via
FierceCable