#TurkeySelfie: Instagram says Thanksgiving 2013 was its busiest day ever
9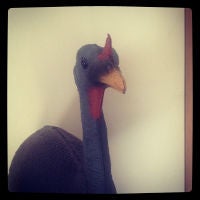 The running joke about Instagram is that its main usage is to let people share pictures of their food, and this latest story isn't going to help get rid of that joke at all. Thanksgiving turned out to be a very big day for the service last year, and this year Instagram is saying that Thanksgiving was the busiest day ever for its photo-sharing app.
Unfortunately, Instagram hasn't given any actual statistics to back up the claim. Last year, when Instagram said that Thanksgiving 2012 was the busiest day ever for the service, it said that the day featured 10 million Thanksgiving-themed tags, and a peak of 226 Thanksgiving posts per second. This year, Instagram says that the collision of Thanksgiving with the first day of Hanukkah led to the "busiest day on Instagram so far."
We assume that at some point Instagram will give out some real numbers from the photos and videos shared yesterday, and when it does, we'll be sure to bring them to you.