Transparent-display Explay Crystal is a phone merging the past and the future
9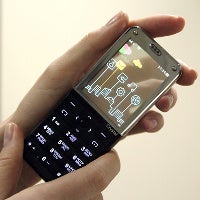 The Explay Crystal is a strange phone - it features a revolutionary transparent color display that will make you look uber-cool, but at the same time it's a simple feature phone with no other perks. That amalgamation of futuristic display technology with unimpressive other hardware leaves us with mixed feelings, but taking a look at the price we come to understand it - the phone only costs $215 off contract, affordable for the masses in Russia where it will hit shelves on July 1st, 2012.
Now, we have to mention that the Explay Crystal, as awesome as it looks, is not the first phone of its kind. Transparent displays arrived first on the 2009 Sony Ericsson Xperia Pureness, and then only in 2011 Lenovo released the S800. And that's pretty much it for transparent displays on phone - they are not common at all, as you might have noticed. A huge contributor to that is the outlandish pricing. The Xperia Pureness cost well over a $1,000 intially, and the Lenovo S800 prices started at around $800. This we imagine a pretty big showstopper for wannabe adopterds. But are transparent displays cool? We'd say yes, and are curious to hear your opinion in the comments below.
As to the Explay Crystal itself, it's a simple feature phone with dual-SIM support, a microSD card slot and microUSB charging slot on the side. There is a choice of a traditional grid menu, and a fancy animated one. The camera is weirdly placed on the back right below the screen. That's about all we know about it. Head on to the pictures below to see the future of the past. Or the past of the future. You decide, but in either case, if there was an excuse for buying a feature phone in this day and age, a transparent display sounds like the right one.
*Explay Crystal images below courtesy of NoMobile.