Training materials hint to the possibility that Toys "R" Us might be selling the iPad 2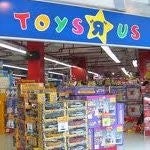 In order to expand the iPad 2's reach, it seems that Apple is tapping a highly unexpected retailer to sell its highly prized tablet. Naturally, there are quite a few retailers that currently carry stock of the Apple iPad 2, but we may soon see
Toys "R" Us
being added to the selective list as well.
Leaked training materials
show that Toys "R" Us employees are being given documents and going through some computer trainings to get up to speed with the venerable tablet. With these training materials in circulation, it might indicate a potential move for the long time toy retailer to finally get in with the iPad 2 - which could happen as soon as next month.
If this indeed goes through, it'll nonetheless benefit Apple since they'll be able to take advantage of the traffic of customers shopping at this specialized retailer. Considering that the iPad 2 is a gaming machine in its own regard, it obviously will be able to contend with other gaming consoles on the shelves of Toys "R" Us stores.
source:
ModMyi
via
SlashGear