Trade your iPhone in for credit toward an HTC HD2
This article contains unofficial information.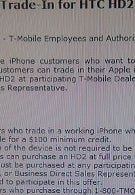 Would you trade in your Apple iPhone for a credit toward the purchase of the HTC HD2? According to some internal T-Mobile communications, from April 1st through May 19th, you can score a credit of $100 to as much as $350 toward the HTC HD2 by trading in a working iPhone. The offer is not being made by corporate owned T-Mobile stores. The credit is available through participating authorized T-Mobile dealers, by ordering the HD2 on the phone at 1-800-TMOBILE or through a Business Direct Sales Rep. Those purchasing the HD2 through the latter two channels must handle the redemption themselves at www.recyclerebates.com/htc. To qualify for the credit, the iPhone being turned in must be in working condition and functional. The touchscreen cannot be broken or damaged and the phone cannot suffer from corrosion or liquid damage. Activation of the HTC HD2 is not required to be eligible for the credit. If you're tired of your iPhone and have been smitten with the HD2, here is your chance to make the swap and get some credit for doing so at the same time. We wonder what T-Mobile will do with the iPhones that it gets for the trade.
Apple iPhone 3GS Specifications
|
Review
HTC HD2 US Specifications
|
Review
(European)
source:
TmoNews