Toshiba runs for the pixel density top with a 6" tablet screen at the whopping 2560x1600 pixels
14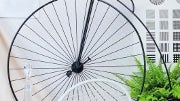 Toshiba is no stranger to excellent mobile LCD panels with high pixel density, but it just outdid everyone in the market with an astonishing 6-incher clocking in at 2560x1600 pixels.
While 6.1" seems pretty miniscule for a tablet, yet gigantic for a phone, Toshiba's creation is a nice proof of concept, and we are probably going to see this resolution in screens of different sizes.
The WQXGA display also sports good viewing angles at up to 176 degrees, and 1000:1 contrast. Nothing is mentioned about brightness, but Toshiba claims it will also be great for 3D overlays, since it has more than enough vertical lines to take care of the usual lowering of effective resolution that comes with 3D.