Toshiba Excite 7.7 hands-on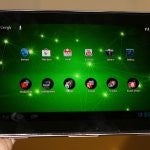 A little over a week ago, we first got wind about
Toshiba's trio of Excite branded Android tablets
, you know, the ones that are packing that lovable
quad-core NVIDIA Tegra 3 processor
. Well last night at Pepcom's EcoFocus event held in New York City, we managed to get some hands-on time with them all – so let's start things off with the smallest of the bunch.
Thus far, the Samsung Galaxy
Tab 7
.7 is the only tablet we've been acquainted with that features a 7.7-inch display. However, the
Toshiba Excite 7.7
is looking to be yet another suitable competitor as it flaunts an equally attractive
7.7-inch AMOLED panel
. In terms of design, we like where Toshiba is going with this latest tablet line, as it sheds the PC-like appearance of the Toshiba Thrive from not too long ago. Instead, it utilizes a
silver plastic casing
that emulates the look of a metallic surface – but without the added weight. On top of that, we also like how it flaunts a modest sleek frame, and that its aesthetics is more rounded in the corners to allow for a better overall feel in the hand.
Capturing our attention, its 7.7" AMOLED display radiates with enough
high-contrast and saturated colors
to keep our eyes affixed at it – while still delivering some pleasant looking details. Thanks to the quad-core NVIDIA Tegra 3 processor it's tucking away inside of its body, it's able to perform handsomely without much fluff during our brief time with it. Based on what we saw with this specific model, the tablet is featuring a stock Android 4.0 Ice Cream Sandwich for tablets experience – with no evidence of any customizations.
Rumored to launch sometime in
June
, the Toshiba Excite 10 also features a 5-megaixel rear camera with LED flash, 2-megapixel front-facing snapper, microSD slot, microHDMI port, microUSB port, Bluetooth, and 802.11 b/g/n Wi-Fi. As of right now, there's no exact confirmation on pricing, but it's speculated to be around the $500 – meaning, it might make for a hard sell.