Top 5 tablets for high-performance mobile gaming
45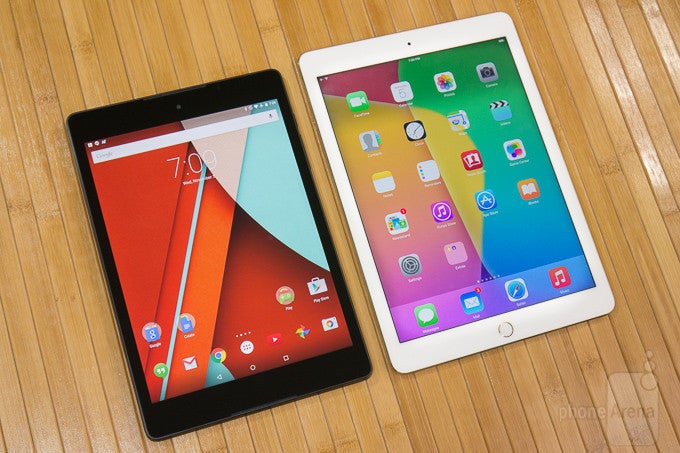 Thinking about buying a tablet for high-performance gaming? You've come to the right place, as this article discusses the top 5 tablets for mobile gaming fans.
Before diving into our picks, it's best if we mention the elements that matter the most when it comes to gaming tablets. Probably the most important element is the app selection, as there's really no point in buying a gaming tablet that lacks a wide selection of games. Second, performance is a critical factor, as lags and stutters just won't cut it on a gaming tablet. Also very important are the quality of the display, since this is what matters towards an immersive experience. Last but not least, gaming tablets should be as compact as possible.
Performance is quite expensive in the tablet market, so don't expect any of the best gaming tablets to be affordable.
Apple iPad Air 2
In many ways, the best tablet for gaming that money can currently purchase is the
Apple iPad Air 2
. While Android has certainly gained a lot of traction with mobile game developers over the past few years, most mobile games are still developed with an "iOS first" approach. Furthermore, the iPad Air 2 also comes with sufficient processing power to handle any game you throw at it, while the display and the build quality are also top-notch.
The iPad Air 2 is not the least compact tablet in this list (240 x 169.5 mm), nor is it the lightest (437 grams). On the upside, the Air 2 measures only 6.1mm, and its aluminum build does not disappoint.
The Apple iPad Air 2 specifications include a 9.7-inch IPS display with a resolution of 1536 by 2048 pixels at an aspect ratio of 4:3 and a pixel density of 264 per inch, a triple-core Apple A8X processor paired with 2GB of RAM and a custom-designed Apple/PVR GXA6850 GPU. Here's how these specs translate into benchmarks:
Google Nexus 9
The display is an 8.9-inch IPS panel running at a resolution of 1536 by 2048 pixels at a 4:3 aspect ratio and a PPI of 281. The Nexus 9 measures 228.2 x 153.7 x 8 mm and tips the scales at 425 grams.
The Nexus 9 draws its processing power from what benchmarks point out to as the fastest chipset available on any Android tablet, the 64-bit Nvidia Tegra K1 (Denver) chipset. The chip integrates a dual-core 2.3 GHz Denver processor and a Kepler DX1 GPU. Paired with 2GB of RAM, the 64-bit Tegra K1 offers great 3D performance.
Nvidia Tablet Shield
Unlike the other tablets in this list, which are designed to be all-rounders, the Android-based
Nvidia Shield Tablet
is designed with mobile games in mind. Aside from being able to play Android games, the Nvidia Shield Tablet also allows you to stream games from PCs that integrate compatible Nvidia GeForce graphics cards, and also lets users stream games from the cloud using the Nvidia Grid system.
This Android-based tablet comes with an 8-inch IPS display running at 1200 by 1920 pixels at a 16:10 aspect ratio and a PPI of 283. The Shield Tablet measures 221 x 126 x 9.2 mm and weighs 380 grams.
The heart of the Nvidia Shield Tablet is a 32-bit Nvidia Tegra K1, a chip that integrates 2.2GHz quad-core Cortex-A15 processor and a 192-core ULP GeForce Kepler GPU. We have yet to benchmark the Shield Tablet ourselves, but external benchmark tests prove that the Shield Tablet comes with only slightly less processing power than the HTC Nexus 9. Many GPU tests show that the Shield Tablet actually performs better than the Nexus 9 in on-screen tests, which could be largely attributed to the fact that the 32-bit Tegra K1 has to push about 38% less pixels on the Shield Tablet.
Dell Venue 8 7000
If you're looking for a gaming tablet with a unique design design, a high-resolution display and an industrial build quality, the
Dell Venue 8 7000
is one to consider. The display is an 8.4 OLED panel with a resolution of 1600 by 2560 pixels at an aspect ratio of 4:3 and a PPI of 359. The Venue 8 7000 is about 6.1mm thick, and it's dimensions are quite compact for an 8.4-inch tablet.
The brains of the Dell Venue 8 7000 is an Intel Atom Z3580, a mobile chip that features a 2.3GHz quad-core CPU and a PowerVR G6430 GPU. Benchmarks show that the GPU does a great job at keeping up with the high-resolution display, but it's worth mentioning that the numbers decrease by quite a bit compared to the iPad Air 2, the Shield Tablet, or the Neuxs 9.
Sony Xperia Z3 Tablet Compact
Sony Xperia Z3 Tablet Compact
is a mid-sized Android tablet that comes with an 8-inch display running a 1200 by 1980 pixels at a 16:10 aspect ratio and a PPI of 283.
The Z3 Tablet Compact is the only tablet on this list that comes with protection against the elements (IP68 certified dust and water resistant), meaning that you can play games in the hot tub if that's what you want. The tablet measures 213.4 x 123.6 x 6.4 mm and weighs 270 grams. True to its name, this is the most compact tablet mentioned here, and it's the lightest as well.
Under the hood, the Xperia Z3 Tablet Compact comes with a Qualcomm Snapdragon 801 chip, a mobile SoC that makes use of a 2.5GHz quad-core Krait 400 CPU and an Adreno 330 GPU. Paired with 3GB of RAM, the Snapdragon 801 behaves decently in 3D benchmarks, although not as well as the tablets mentioned above.
Recommended Stories