NVIDIA SHIELD tablet and SHIELD wireless controller are announced, pre-orders begin today
29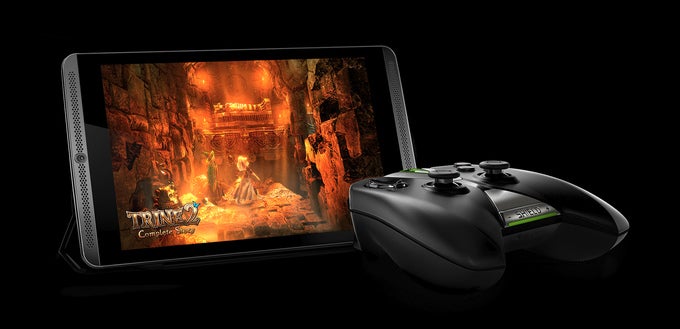 Gamers, listen up! There's a new gaming gadget in town and it is called the NVIDIA SHIELD tablet. Built to deliver a zero-compromise gaming experience on the go, it packs some serious hardware under the hood, while its software set includes features tailored with gamers in mind. And yes, it runs Android KitKat with Google's services out of the box, so it is as versatile as a modern tablet should be. Along with its new tablet, NVIDIA is launching a selection of matching accessories, including the SHIELD wireless controller and a protective case doubling as a stand.
In terms of design, the NVIDIA SHIELD tablet does not appear to shine with much. It has a thickness of 0.36 inches (9.2 mm) and a weight of 13.7 oz (390 grams), which is passable for a slate with an 8-inch screen. speaking of the screen, it has a resolution of 1920 by 1200 pixels for a satisfying, Full HD gaming experience. On its front we find stereo speakers promising loud, rich sound. Resting in its dedicated slot is an NVIDIA DirectStylus 2 stylus for drawing and taking notes.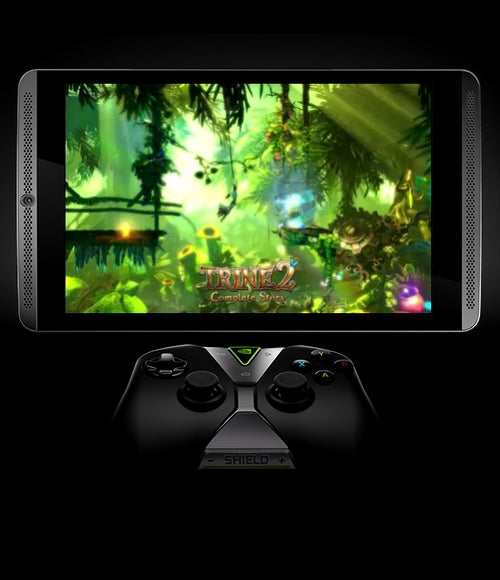 Under the hood of the slate ticks a high-performance NVIDIA Tegra K1 SoC with a Cortex-A15 CPU, 2.2GHz maximum processor clock speed, and a 192-core Kepler GPU. This is some serious bang that should run even the heaviest games without much trouble. In fact, the chip can handle Unreal Engine 4, OpenGL 4.4, and DirectX 12, NVIDIA brags. Further hardware specs include 2GB of RAM, 5MP front-facing camera, 5MP rear camera with auto-focus, a 19.75 Wh battery, Wi-Fi, Bluetooth, and GPS. LTE is also an option. The LTE-enabled SHIELD tablet model comes unlocked and is compatible with AT&T and T-Mobile in the US. 32GB of built-in storage are found on the LTE model, while the Wi-Fi-only variant comes with 16GB of space. Thankfully, folks who find that insufficient can always throw in a microSD card in there.
On the software side of things, NVIDIA has added the option to stream games from a PC powered by a GeForce GTX graphics card to the to the SHIELD tablet. Plus, gamers in Northern California are given exclusive access to the NVIDIA GRID cloud gaming beta, which features a library of high-quality PC games that can be streamed to the tablet while data is processed and saved in the cloud. With NVIDIA ShadowPlay, gamers can record their most epic gaming moments and broadcast them over the Twitch video platform. To make the most of their NVIDIA DirectStylus 2 stylus, users may take advantage of the NVIDIA Dabbler painting application with its realistic watercolor and paint effects. To make the deal even sweeter, NVIDIA is pre-loading Trine 2: Complete Story – a premium game title featuring physics-based puzzles, beautiful sights and online cooperative multiplayer.
As for the SHIELD game controller, it has a directional pad, two analog sticks, four action buttons and four shoulder buttons. Connection to the SHIELD tablet is handled over Wi-Fi Direct, which allows the accessory to achieve super-low latency times for instant response while playing. In addition, the controller features a built-in microphone and a headset jack.
Gamers that wish to protect their SHIELD tablet may take a look at the cover that NVIDIA is offering. It doubles as a stand with 3 angle positions for a more comfortable gaming experience.
How do you get one of these? Well, you may pre-order the Wi-Fi-only SHIELD tablet today for a price of $299. The 32GB Wi-Fi + LTE model is expected to come at a later time, priced at $399. The SHIELD wireless controller and the detachable cover are being sold separately for $59 and $39 respectively.