Top 5 memorable features of iPhones past
6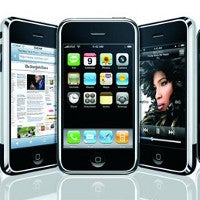 We're not sure how you folks feel about Apple's announcement today, but for some of us, we couldn't help ourselves thinking about all those wonderful announcements of iPhones past. Seriously, they were filled with numerous surprises that made us drool and salivate with every announcement. With this most recent one, however, we were feeling as if the spark was somewhat lacking – it could've been due to the short timing of the entire event or something. Who knows.
For starters, there was a time when Apple's events spurred many great innovations in the mobile space, so much so that the competition seemed years away from matching what Apple was doing. Today it's a completely different story, as we naturally found out. Sure, there are a few notable surprises thrown in throughout the presentation, such as the introduction of the mid-range iPhone 5C and the use of a 64-bit chipset with the iPhone 5S, but as a whole, there wasn't as many ah-ha moments that seemed rampant with previous iPhone announcements.
Taking a stroll through memory lane, we take a quick look back at 5 specific features of iPhones past that were so darn memorable – you know, the kind that made us squeal with joy in the inside. So what are some of your favorites?
Additional iPhone coverage