Tongue in cheek ways to value Apple's stock
43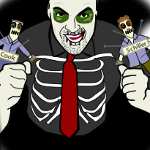 Apple's stock the center of attention this week
, we have explained the different ways that professional traders try to determine the direction of Apple's stock. Fundamental analysts look at the nuts and bolts of a company's business, which in Apple's case is manufacturing devices like the
Apple iPhone
and the
Apple iPad
. We've talked about analysts studying the supply chain, and checking retail stores looking for an
edge
. We've also discussed the technicians who use charts to let the stock itself do the talking. This includes the Elliot Wave Theory, moving average breakouts, CANSLIM and Stage Analysis to name a few.
The jokers at The Joy of Tech have produced an infograph that covers a number of, well, let's just call them
unorthodox methods
of valuing a stock such as Voodoo, Tarot cards (check out the cards, they are a riot!). Whatever methodology of analysis you use, it was a tough week for Apple which closed Friday at $439.88.
source:
TheJoyofTech
via
AllThingsD