Get the best battery life out of your Galaxy S9 and S9+
9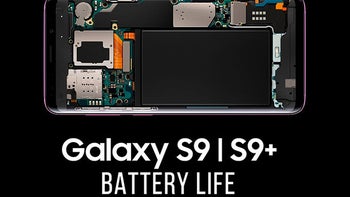 Тhere isn't much for Samsung to brag about when it comes to battery life on the
Galaxy S9
and
S9+
. They have the same battery capacity as their predecessors, and again fit squarely in the middle of the pack when it comes to endurance on a charge from flagships with QuadHD resolution displays.
Granted, the default screen resolution is FullHD+, but there are still more than 4 million pixels that have to be lit up, as opposed to two and change on "real" 1080p displays, so that doesn't help nudging the battery life up one iota. Samsung's own official battery life stats peg the S9 as having absolutely the same battery life as the S8 while browsing or video playback, i.e. unremarkable.
Samsung Galaxy S9 vs Galaxy S8 battery life*
* - Based on official data from Samsung
| Usage scenario | Samsung Galaxy S9 | Samsung Galaxy S8 |
| --- | --- | --- |
| MP3 Audio playback (Always-On Display enabled) | Up to 48hrs | Up to 44hrs |
| MP3 Audio playback (Always-On Display disabled) | Up to 80hrs | Up to 67hrs |
| Video playback | Up to 16hrs | Up to 16hrs |
| Talk time | Up to 22hrs | Up to 20hrs |
| Internet use (Wi-Fi) | Up to 14hrs | Up to 14hrs |
| Internet use (3G) | Up to 11hrs | Up to 11hrs |
| Internet use (LTE) | Up to 12hrs | Up to 12hrs |
Our own battery benchmarks, where none of the handsets cracked the 9-hour screen-on mark, showed that, indeed, if you don't play Pokemon Go too much, the S9 may last you through the workday, with the S9+ extending into the bar hopping afterwards, but that's about it. Granted, the phones offer wireless charging, which is still a slower method than the good old cable, and the Galaxy S9 and S9+ can be topped up in about an hour and a half with the supplied standard chargers, which is pretty svelte.
At their default, out-of-the-box settings, the S9 and S9+ are firmly in the overnight charging camp, but there are a few tweaks you can make to those, to make them last longer on a charge, and avoid the need for a
bulky battery case
- unless you are gone for the weekend camping, that is. So, what can you do?
Turn off AOD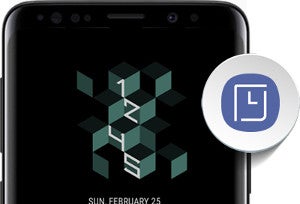 Seriously, this one should come at the top of your list. The new Always-on display on the Galaxy S9 and S9+ is a pretty thing, with even more pertinent info being placed there for your attention, and the ability to create custom colored graphics to showcase. It is a battery hog, however.
Our modest observations show that leaving this setting on drains about 1% of juice per hour, meaning that even if you don't do jack with your phone, it will be like you have wasted 1-2 hours of screen-on time on a charge anyway, depending on the usage. Go to Settings>Lock screen and security, or type AOD in the settings search bar, and switch it off.
Turn on MID power mode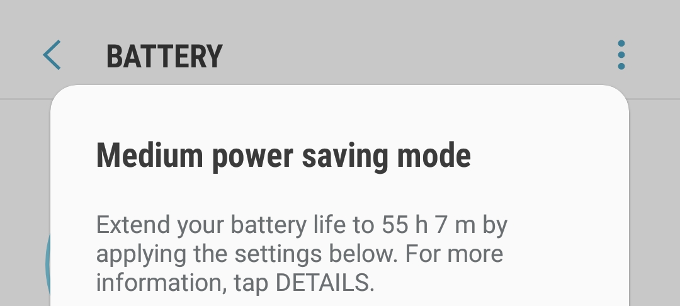 This one is good. It will turn off Always-on display for you, will throttle the processing speeds a bit on the most power-hungry top end, but not to the extent you'll notice in everyday interactions, will set a lower logarithmic brightness threshold, and will introduce a more aggressive background app management.
Settings>Device maintenance, and tap on the Battery option below, or simply type battery in the settings search, then set the Power saving mode to the MID level
Staying alive: only the chat apps
After the display and/or a revved-up processor during gaming, the most power-hungry components in the daily life with your mobile are... the apps. Yep, while you may think that changing the display resolution or choosing a darker theme since it's an OLED display, will do something, but those can't compare with reigning in rogue CPU wakes, and push notifications that keep the phone alive at all times.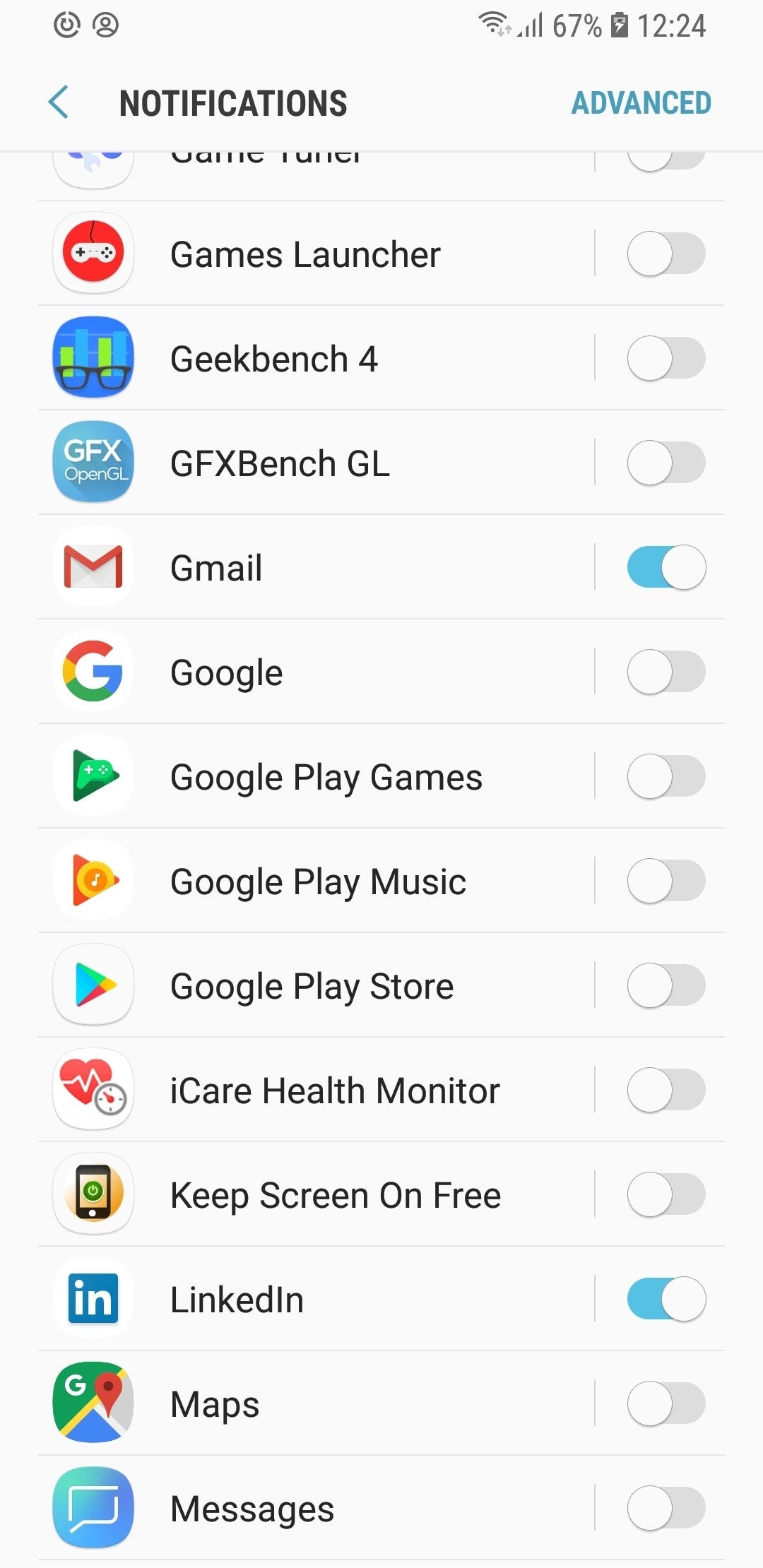 Notifications on unmonitored apps
Thankfully, Android Oreo has gotten better at background app management, and Samsung provides power-saving modes that kill extra rogue apps, but if those are too aggressive, you may lose notification abilities, which is especially hard when it comes to chat apps.
Go to Settings>Device maintenance, and tap on the Battery option below, or simply type battery in the settings search.
Hit the "Unmonitored apps" option below, and pick as exclusion apps that won't be put to sleep your Facebook Messenger, Slack, Gmail, WhatsApp, Viber, and any messaging, chat or other app that you don't want to cease getting notifications from. App developers are getting better at circumventing power-savers, but it's a constant cat and mouse game between killin the app by the system, and resurrecting it only to get a notification, and the score is not in favor of developers.
Now, for the actual alerts, type "Notifications" in the settings search bar, and turn them off for all apps, then pick only those that you wish to get alerts from.
Turn off Wi-Fi, Bluetooth, and 'High accuracy' location scanning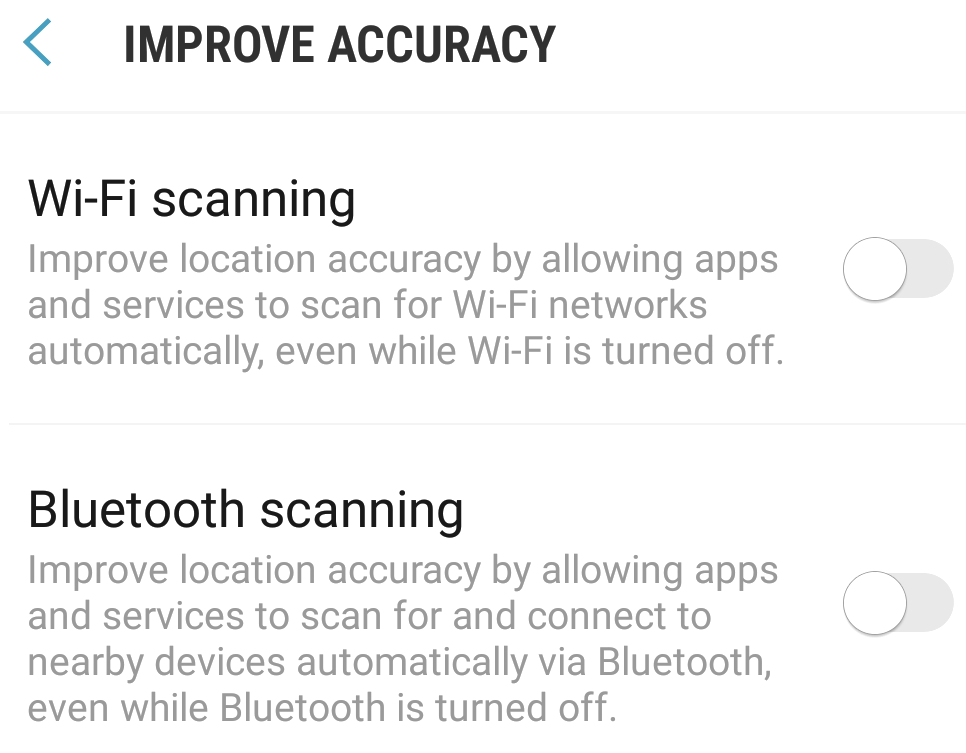 Seriously, again, no amount of LTE tower pinging, talking on the phone, or any other usual suspect when it comes to wireless radio battery drain can affect your mileage as much as constant Wi-Fi scanning for non-existent networks. This thing is a giant power hog, and you should kill it with fire if you have exhausted all the usual culprits for your battery drain. Bonus points: by default Google tracks you even when Bluetooth and Wi-Fi are off, so if you ditch scanning, you'll make it harder.
Type "Improve accuracy" in the settings' search box, then turn Wi-Fi and Bluetooth scanning off
Type "Locating method" and switch it to "Phone only," if you need to keep GPS on at all times. When playing Pokemon Go, navigating, or any other scenario you need high accuracy, turn it back on for the sesh.
Ditch Chrome for Samsung Internet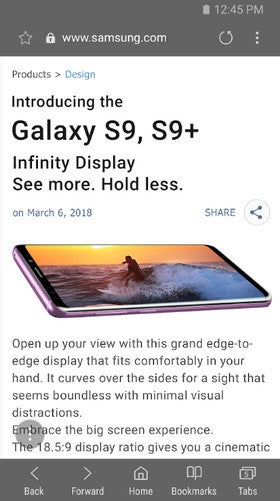 Look at the apps that are using the most power on your Galaxy S9. Unless you just spent an hour gaming, editing video, or chasing Pokemons, chances are that the largest battery drainer on the software side is Chrome. Those countless tabs you have open, with all the scripts and media running on them, don't come easy on the processor, and Chrome isn't one to cluster processes, but rather manages tabs separately for stability, resulting in a huge toll on the battery. Samsung has an excellent built-in browser that is not only a bit faster than Chrome in synthetics, but comes with extras, too.
The newest Internet Browser version on the S9 and S9+ features protected browsing (alerting users when visiting sites that try to steal information or install malware), and various interface improvements (including an "Add to home screen" icon for web apps, and a reader mode for news articles). Furthermore, tab switching has been optimized, and is now more efficient on low-end devices with 1 GB of RAM or less. Use that one, and you may see a significant reduction in browsing-related draw.
Use Facebook/Messenger Lite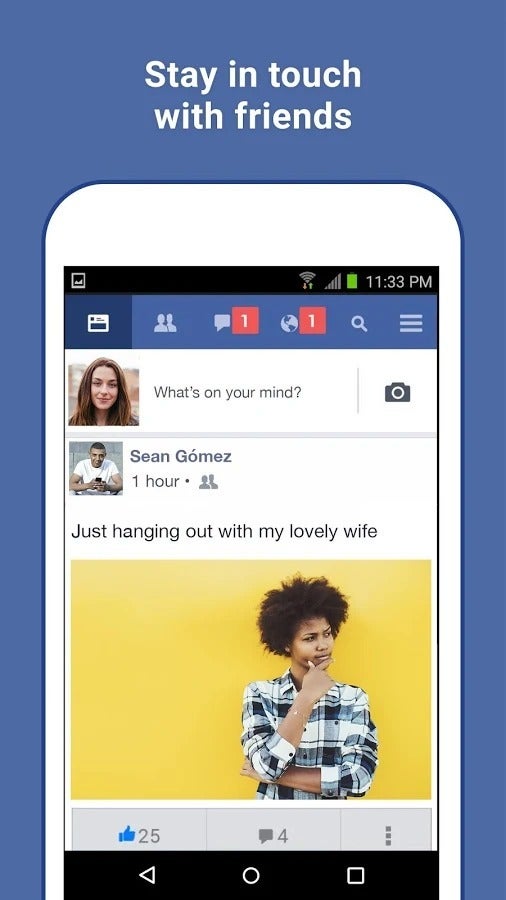 Updating the status quo, media postings, likes or dislikes of countless friends with a minimal battery toll is not for the faint Facebook app developer, and leaving Mr Zuckerberg's creation running in the background will suck the living juice out of the S9's, or any other phone's pack.
Ditto for the ubiquitous Facebook Messenger chat app. You may have heard horror stories about the battery consumption of these two, and, although Facebook says they are getting better, it still
outed "Lite" versions of the apps
.
Go to the Play Store and get them, then look at the third point in our guide, and place them in the "Unmonitored apps" list in your battery settings.
If you are longing for the full Facebook experience still, you can simply keep it in a browser tab, and will be better off still than using the Facebook app.
The ones listed above are your best bets for extending the battery life on your Galaxy S9 and S9+ without sacrificing much of anything in the process, but there are a few other tweaks you can experiment with, supplied below. Those won't make as much of a difference, but are still fun to toy around with, and see if your mileage will vary. Anything else you might have found to work on the Galaxy S9 and S9+ when it comes to battery life?