Tiny Realms hands-on
2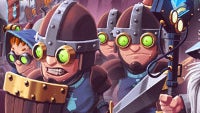 Increasing in presence within the mobile gaming scene, real-time strategy games are starting to show their worth, as a host of titles were announced within last year. During PAX East 2014, we managed to check out an up and coming one that'll be making its way to the iPhone and iPad. From the creative minds of video game studio Tiny Mob Games, the fantasy RTS game Tiny Realms is hoping to give mobile gamers a serious contender in the space.
In typical RTS fashion, Tiny Realms gives us control of one of three different race classes in its ever evolving fantasy world. Tiny Mob Games' very own Chris Hoefgen explains that they're trying "
to add real-time strategy to the whole mobile world and give you sort of a combination of a causal and hardcore experience you'd get with something like Warcraft or StarCraft.
"
On one hand, it has a base and realm building world similar to the experience you'd get from tower defense games. Meanwhile, there's also a combat side of the game that offers a single player experience where you take control of three factions – the dwarves, humans, or tegu. In addition, there's a player-versus-player multi-player mode where you can match up against other similarly experienced human players.
The graphics have that old school RTS design style similar to early titles in the genre, which works well on the iPad's sharp and sizeable display. Rather than employing 3D graphics, it resorts to utilizing an isometric view – again paying homage to the style of the genre's humble beginnings. Game play of course, is typical RTS fashion where we can control several units to attack our opponents – or summoning hero characters to really demolish the defenses of our enemies.
A common strategy used by mobile games in general, Tiny Realms will follow the freemium pricing strategy – where players can buy additional boosts and content packs to enhance the experience. Anxious gamers won't have to wait that long because the game's release is tentatively set for this spring for iOS.