Timex's smartwatch will connect to the Internet without the aid of a smartphone
6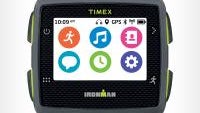 Timex is about to make a foray into the world of smartwatches with an offering of its own, said to be equipped with a Qualcomm chipset and Qualcomm's Mirasol display technology – a tech that grants a power-efficient display, but still provides great outdoor visibility.
The timepiece will be called the Ironman One GPS+ and will pack a few nifty features, aimed at the hiker crowd. Firstly, as the name suggests, it will have a GPS and will use it to not only detect your location, but also report speed and traveled distance. What further sets it apart, though, is the fact that, thanks to an exclusive partnership with AT&T, it will also have its own cellular connection, as opposed to having to be paired with a smartphone in order to gain one. So far, it is said that the watch will be able to use said connection to communicate one's location to their contacts, either to arrange a meetup or in case of emergency. Whether it will support any type of messaging or mail service is still subject to speculation.
The watch is up for pre-order on the Timex website, due to arrive this fall. Its price tag is at $399, with an optional accessory to measure the user's heart-rate for around $50 more. A rather hefty sum, considering that Timex's other GPS watches float around the $200 mark. At least the first year of AT&T's data service provided for the smartwatch, will be free.
source:
Reuters
,
Endgadget