Time wasters: Best Android Wear games for smartwatch owners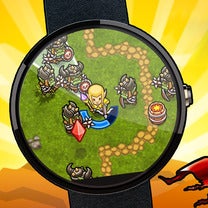 There are quite a few things Android Wear smartwatches are designed to do. They count your steps as you walk or exercise, they give you the weather forecast when you need it, they deliver notifications and Google Now cards from your smartphone straight to your wrist, they even tell time! Can an Android Wear smartwatch play games, however? Sure it can! Android Wear smartwatches pack powerful processors, sufficient amounts of storage, and enough RAM to handle some light gaming. Although we're pretty sure that gaming was one of Android Wear engineers' last priorities.
So yeah, here we are, presenting you with our list of the best Android Wear games we came across. Just don't set your expectations high as these have rather simple gameplay and graphics, which is understandable given the hardware they're intended to run on. Still, if you have a few minutes to waste, and you don't feel like taking out your smartphone, these smartwatch games for Android Wear should do the trick. Check them out!