Apple releases its first extended battery case for the iPhone 6 and 6s: 1,877mAh battery inside, costs $99
66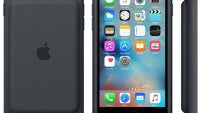 Although it might send a contradicting message or two to the regular consumer, Apple has just made its first ever battery case for its newest iPhone official. Cupertino's Smart Battery case flaunts a 99-dollar price tag and is only available for the 4.7-inch
iPhone 6
and
iPhone 6s
at the moment; there is no 6s Plus version, but we suspect that Apple will right that wrong sooner or later.
The Smart Battery case that Apple just unleashed on its online store comes with a 1,877mAh embedded battery inside, which provides up to 25 hours of additional talk time to the device, 18 hours of web browsing on LTE, or up to 20 hours of video playback. Knowing the iPhone 6s' battery capacity of 1,715mAh, we can guesstimate that it will most likely double the battery life of the iOS flagship.
Speaking of remaining battery life, your iPhone will display the remaining charge in the case both on your lock screen and in the Today section of your Notification Center, which is an unique feature of Apple's case. There is also an LED indicator that shows whether the case is charged or not, though Apple has put it inside the case, which is quite strange and not user-friendly at all.
Design-wise, the battery case comes with a very prominent hump at the back, but that's natural with battery cases, which are usually not the most compact accessories you can throw on your phone. That's the case (no pun intended) with the majority of
extended battery cases for the iPhone 6s
, though most of them don't feature such a hump. The case itself is made of soft microfiber and comes in white and charcoal grey, but the aesthetics of the accessory are quite debatable...
Apple says the accessory supports a wide range of Lightning accessories, most importantly the regular charging cable that you got with your iPhone 6s, which is another unique feature of this case. Apple has also thrown in support for the separately-sold iPhone Lightning Dock, which is quite nice.
Anyone getting it?
Recommended Stories