Tim Cook receives letter from 76-year old man whose life was saved by the Apple Watch
40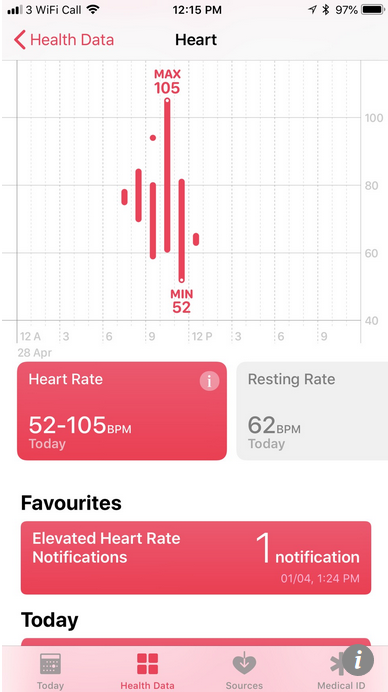 The notification that saved the life of 76 year old Gaston D'Aquino
Based on
several incidents that we have told you about
, it would seem that there is a valid reason to call the Apple Watch a life saver. The latest story comes out of Hong Kong where 76 year old Gaston D'Aquino was sitting in church, feeling fine. It was April 1st, and D'Aquino spotted an alarm on his timepiece telling him that his heart rate was too high. Familiar with previous situations where the Apple Watch provided a prescient warning to others, D'Aquino skipped Easter lunch with his family to go to the hospital.
At the hospital, D'Aquino told the doctor that his Apple Watch sent him, and that otherwise, he was feeling fine. Just to play it safe, the hospital ran an EKG (Electrocardiagram) and the result led the doctor to refer D'Aquino to a cardiologist. As it turns out, two of his three main coronary arteries were completely blocked, and the other was 90 per cent blocked." At the hospital, doctors lauded the Apple Watch for its accurate readings.
After having a balloon angioplasty, Gaston is now out of the woods. He wrote a letter to Apple CEO Tim Cook informing him how the Apple Watch saved his life. Cook responded with a missive of his own. "Gaston, I'm so glad you sought medical attention and you're fine now. I appreciate you taking the time to share your story. It inspires us to keep pushing. Best, Tim."
"The watch vibrates and I can see the messages. I haven't taken it off. That's one of the things that's good about the watch – it's on you. It's monitoring you all the time."-Gaston D'Aquino
As a result of his story, D'Aquino's son-in-law bought an Apple Watch for his wife, and many of his friends also purchased one. He wants everyone to read about what happened to him and adds, "Listen to the warning. I could have gone for lunch, but I chose to go to the hospital. It gives you a choice. If you don't take care of yourself, no one else will do it."
source:
SCMP